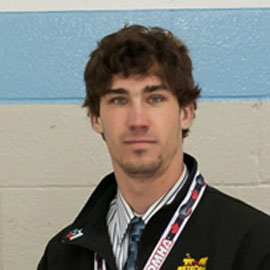 Educator (Kinesiology, BA)
Patrick McClure, Avon Maitland District School Board
Patrick McClure graduated Laurier in 2009 with a BA in Kinesiology and Physical Education (minor in geography) and later went on to complete his Bachelor of Education. Patrick is presently an occasional teacher with the Avon Maitland District School Board.
As Patrick reflects on his student years, he indicated that he was always involved in community initiatives and volunteer activities. His part- and full-time positions throughout his school years involved working with youth in a variety of recreational environments, so a career in education was the natural progression of these experiences. While at Laurier, Patrick played Junior B hockey and developed an excellent sense of time management and prioritizing. He was also involved in intramurals, special Olympics and coaching, which aided in the development of skills necessary to be an effective educator.
Upon completing the necessary education to become a teacher, Patrick travelled to the United Kingdom to take a full time position in a secondary school in East London. Working and living in a foreign culture was a monumental learning experience. The skills and knowledge he acquired by having to teach while adapting to an unfamiliar professional environment were irreplaceable. Upon returning to Canada, he contacted former teachers and administrators and was able to secure a position as an occasional teacher in the board in which he was educated. While serving as an occasional teacher for grades 9-12, he remains active as a volunteer coach and running tutoring services to obtain a more secure contract.
A typical day as an occasional teacher involves an early call and commute to an assigned school. Upon arrival Patrick must liaise with the administrative staff to learn of his duties for the day. More often than not, occasional teachers will be filling in for an absent teacher who has already prepared their class' work for the day. Generally, the activities supplement the learning objectives of a previous lesson, so it is his job to facilitate and direct the students to reach their target. Apart from the typical benefits that accompany being a teacher (e.g. helping young minds develop), Patrick finds that being a young teacher has served him well in that students have a different level of respect for him than they do for senior staff. Having recently completed postsecondary, Patrick is able to clear up misconceptions, and finds students very receptive to his guidance given his age. However, he does experience frustrations and difficulties as an occasional teacher such as disrespectful behaviour from students and occasionally staff, and the lack of full-time employment.
For students considering a career in education, some traits and skills that Patrick believes are beneficial are resilience, organization, focus, clear communication and presentation skills to small groups. He also feels it is necessary to have consistent boundaries and expectations (and the ability to adhere and enforce them), to have a strong passion for education and the will to express this through your teaching approach. If looking into education, Patrick mentions that there is a large population of young, newly qualified teachers with very few full-time opportunities. He also does not see the job market getting any better in the next five years. Therefore it is wise to carefully consider whether teaching is right for you particularly in light of the labour market situation.
Patrick would recommend this career to individuals who have gained experience working in not only mainstream camps and classrooms, but for individuals who have worked in environments that provided the opportunity to work with challenging students. The rationale for this is that entry level positions in education can often involve working with students that challenge and defy you. Therefore, you want to be sure you are suited and equipped for these challenges as a teacher and have cultivated proficiency in dealing with difficult populations in order to effectively manage a classroom and give you a better chance at developing a positive and progressive rapport with children. So "volunteer in as many capacities as possible, such as working with vulnerable, disabled, developmental and behavioural populations within social service settings."