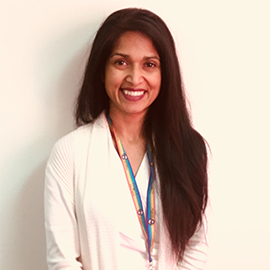 Equity and Inclusion Officer (Social Work, MSW)
Deepa Ahluwalia, Waterloo Region District School Board
By: Matthew Gregorchuk, Outreach & Support Peer
Deepa Ahluwalia graduated from the Bachelor of Arts, sociology program at Western University in 1999. She then went on to earn her Master of Social Work degree at Laurier in 2001. After graduating, she began her employment as a constituency worker for the Riding of Kitchener-Waterloo where she assisted the MP with researching, organizing, scheduling, and report writing. Gradually, Deepa entered the social services industry as a family service worker where she was responsible for providing protective and preventative services to children and families. Since her dream job was to become a school board social worker, Deepa began searching for postings in a school setting and found the equity and inclusion officer position. After applying and interviewing for the job, she was accepted into the role and has been serving as the equity and inclusion officer for the Waterloo Region District School Board (WRDSB) since 2008. Although she utilizes the skills she learned from her Master of Social Work daily, Deepa points out that a Master of Education or Social Justice could also be a tremendously valuable asset when trying to secure diversity-related positions with a school board.
Put simply, Deepa's main goal is to promote inclusion within the school board. With diversity issues consistently evolving, the requirements of the job are constantly changing to meet the needs of students of various lived experiences. Tasks can range from writing administrative procedures and guidelines that support equity, to communicating with teachers, family, and students on how to address issues that impact student well-being and achievement. Deepa stresses that every day is different in a position like this. Some days Deepa is in the office answering emails and helping people find resources, or facilitating workshops about social identity and privilege, while other days she is out in schools engaging with teachers and students or meeting with various groups in the community that stand for social justice and equality. What underlies all of Deepa's work is the understanding that for students to achieve well academically and experience well-being, they must feel included, valued and welcome at school.
It is for this reason that Deepa is so passionate about the work she does. In grade 1, Deepa was a C average student. She hated going to school; teachers and students treated her differently because of her race and religion, which created an overall negative student experience. Deepa had to move because her father found another job in another community. When she arrived at the new school, she found the principal, teachers and students to be incredibly accepting and friendly, and for the first time she felt like she belonged at school. Because of this new found sense of belonging, Deepa became an A student. Her personal experiences have allowed her to appreciate the real value of the work she does.
According to Deepa, the essential skills needed to be successful in this job are communication, critical thinking and leadership skills. Communicating effectively with staff, parents/caregivers and students is vital as the role involves leading workshops and answering family concerns as they arise. Since diversity and inclusion issues are constantly evolving, it is important to be able to think critically about the best way to solve the unique problems that are presented. Finally, leadership skills are needed as the position involves you being the leader on many initiatives and using your voice to highlight the injustices that exist in any organization.   
Deepa highlighted the importance of patience and compassion as must-have personal traits when entering this field of work. Working in an equity officer role can be frustrating because you want to get things done, but the system may not be ready for the change. Patience, compassion and empathy are also vital since the role involves working with people with diverse lived experiences and perspectives.
Many people in this career come from different disciplines and backgrounds, which is why there is no perfect or absolute training route. Deepa highlights that a Master of Education, Social Justice or Social Work is often desired, and gender and women's studies courses are also valuable to have. To gain experience toward this career goal, volunteering in organizations that promote social justice is beneficial to increase your knowledge of the underlying issues affecting the communities with which you are interested in working.
To acquire equity and inclusion experience as a student, consider applying to a local multicultural centre for summer work, as there are many student employment opportunities to build your social services experience. Get involved in community organizations by volunteering to help you learn more about the field and build a professional network.