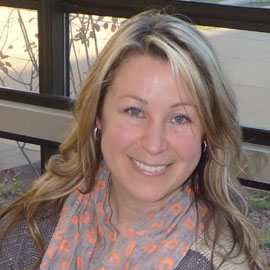 Music Educator (Music, BMus)
Jodi Merritt, Huron Heights Secondary School
Jodi Merritt attended the University of Waterloo from 1991-1992 for general arts. During her time in the general arts program, Jodi realized she greatly missed being involved with music and so initiated a transfer to Laurier to obtain her Honours Bachelor of Arts, Music: Comprehensive Education as a bassoonist.
After completing her degree at Laurier in 1996, Jodi attended the University of Western Ontario's Althouse College for one year to obtain her teaching certification. Jodi didn't immediately land a role in the music field, but did secure a teaching position at Bluevale Collegiate Institute where she taught English for six years before landing a music teacher position at Huron Heights Secondary School. Jodi notes that "being well-known and having connections helped" and emphasizes that "it's important to be good at what you do, but it's also important to make positive social connections – for these relationships will ensure your future success."
While studying at Laurier, Jodi was busy with class, practice time, lessons, and her involvement with the orchestra and wind ensemble. Jodi also found time to volunteer with a private teacher to help students in a bassoon techniques course, which she found particularly helpful to add valuable experience to her résumé.
As with any career, there are some challenges that arise. "Currently, teachers are attempting to implement the assessment, evaluation and reporting documents mandated by our school board, which has been a real stress this year," Jodi notes. She also mentions how it can be challenging "staying up to date with all of the professional development initiatives and opportunities that help to keep teachers current," requiring extra preparation to change teaching styles and methods.
While there are challenges in her field, there are also great rewards! Being a music teacher involves lots of extracurricular involvement outside of the regular work day that offers enriching experiences. Jodi is involved with Junior Concert Band and the Arts Council, and says her support and involvement with Huron Height's Musical Youth Articulating Raw Talent (MYART) program has been a career highlight for her. Being involved with music has also enabled her to have unique experiences such as working with the Waterloo Chamber Players and artist Jacob Moon (also a Laurier graduate), and playing at Centre in the Square.
A final word of advice to current Laurier music students? "Live the dream. If this is your passion, then pursue it!" Jodi says. "It's very difficult to get a job in the field currently, but stick with it, practice, and meet new people."
Jodi keeps this important quote in mind, "Students might not remember what you teach them, but they will remember how you made them feel."