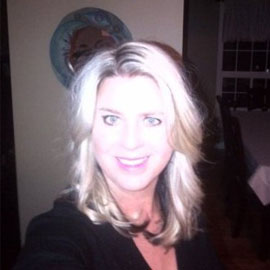 Principal (Psychology, BA)
Nancy Woodhall, Waterloo Region District School Board
When Nancy Woodhall first began her psychology program at Laurier, becoming a principal was not necessarily the path she envisioned. Initially, Nancy wanted to become a clinical psychologist, however after considering the competitive nature of the field and finding a passion for coaching swimming, she decided that teaching would be the right choice for her. This led Nancy to attend Niagara University in New York to obtain her MA in science and education where she graduated in 1995. After nine years of teaching, Nancy became a principal in 2005 and currently works at Baden Pubic School.
Growing up Nancy was always a competitive swimmer for the Region of Waterloo Swim Club. During her time at Laurier, she swam for the varsity swim team while also coaching children. Both her parents and the parents of the children she coached told her she was great with children and would make an excellent teacher. Nancy attended a further education fair at Laurier with a friend where she was introduced to teacher's college representatives and truly began thinking about teaching as a career, but it was mainly her father who influenced her decision to attend teacher's college. Nancy describes this part of her life as when "the stars aligned" and credits her being part of the swim team as helpful in getting her to where she is now. Nancy also worked as a tutor to continue to gain experience in an educational setting.
Much like teaching, the path to becoming a principal requires a university degree plus a Bachelor of Education from an accredited teacher's college to obtain the Ontario College of Teachers qualification. In order to be a principal, you must have five years of teaching experience and qualifications in three areas. In teacher's college you typically get qualified in two areas – either primary/junior, junior/intermediate, or intermediate/senior – which means during your time as a teacher you need to take an AQ (additional qualification) to teach in a third area. Further to that, you must have two specialties (otherwise called teaching subjects) or a master's degree, and your principal parts one and two qualifications. It was after four years of teaching that Nancy decided she would like to take the next step and become a principal. She received great support from fellow co-workers, her family, and the Principal Aspiring Leaders (PAL) program for teachers wanting to become administrators.
There is no typical day as a principal as things can change in the blink of an eye. However, there are certain things Nancy needs to do on a daily basis to keep the school running smoothly. Every day Nancy checks her emails and makes sure all of the teachers will be coming in that day – if someone has called in sick, it is up to Nancy to find coverage. Since Nancy wants to be actively involved with the students, she covers yard duty as a way to get outside with the children to build relationships while also monitoring safety. Further she makes the effort to check in with the teachers and does the announcements each morning with the children.
Additionally, Nancy manages a "good work program", which is her way of celebrating great work. With this program she hands out awards to students with good behaviour and who show respect and integrity at school. Although there is a lot of desk work required in her position with tasks ranging from dealing with parents to looking at staffing numbers, Nancy describes her job as "problem-solving 100 things per day." Nancy tries her best to be visible at the school and get outside with the children, as she says this not only helps with safety, but also allows the students and staff to know her better.
Like any job there are difficulties associated with being a principal, Nancy highlighted three key challenges. The first is the technology gap between generation X and Y. Having grown up without the technology we have today, Nancy has had to shift her thinking surrounding technology and has to ask herself just how much should they use within the classroom. However, she does emphasize that technology can be both a pro and a con, it is simply a matter of how it is implemented. Second is the children at the school, which she says is all dependent upon "poker chips" and how many they bring to the table. Lastly, and most importantly, are safety concerns which range from allergies to concussions and everything in between. As a principal, Nancy describes herself as someone who wears a lot of different hats because she has to deal with so many different things.
Nancy's motto in her school is "safe, happy learning" which truly encompasses how she feels about her role and what she wants to accomplish. In preparing for this role, Nancy had many great mentors to look up to and programs to attend, all of which allowed her to become comfortable and confident in a principal capacity. Nancy emphasized two things she likes most about her line of work: building relationships and making a difference. She noted that in order to excel in this position you must be a positive and sociable person and be a strong leader. Further, you must have strong development and organizational skills, specifically when it comes to building timetables and setting up and implementing the curriculum. You must also be an innovative and critical thinker, be able to engage your staff, and be able to self-regulate and control your own emotions.
The future of the education system is continually changing but Nancy believes that technology and having a generation Y mindset is going to continue to be a huge factor that all principals will have to deal with. Another key thing surrounds equity and wellness and talking about issues and differences more openly in the schools. There will be increased emphasis on having conversations about equity and inclusion based on issues such as sexuality, religion, and ethnicity. She also believes there will be a gradual release of responsibility on behalf of the teachers, where the students are much more engaged in their learning and teachers give feedback on how to improve. This allows for the students to take more ownership of their learning and changes the role the of the teacher from the giver of information to a more reciprocal relationship of a mentor.
If Nancy could travel back in time to her student self and bestow any advice, she would tell herself to worry less and take things in stride. "Things will get done and you will enjoy your career path a lot more if you don't stress and just let things happen." If you are interested in a career as a principal, Nancy suggests you look into the Ontario Principal Council and the Waterloo Region Elementary Administrators and start to get involved with schools.