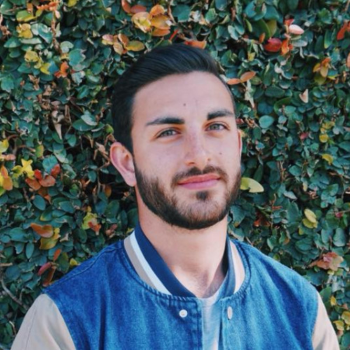 Entrepreneur, Entertainment (Economics and Financial Management, BA)
Zack Honarvar, Founder, One Day Entertainment 
By: Tanvi Patel, Career Centre Peer 
Obsessed with turning one into two, and two into four, Zack Honarvar studied economics and financial management at Laurier with hopes of pursuing his lifelong passion of entrepreneurship. During his time at Laurier, he started a tutoring business to compete with the local shops, by paying tutors more than his competitors. After graduating from Laurier, Zack took a job at Sun Life Financial, which he admits was only to maximize his salary.
It didn't take long for Zack to realize that punching numbers into spreadsheets for a paycheque wasn't for him. Despite thinking he could work a job and be an entrepreneur in the evenings, he realized he didn't even have enough energy to pursue a side hustle by the time he got home. He made a plan to get out.
Zack attended a local job fair and stumbled across a booth for a then largely unknown company called Shopify. On the spot, he gave a sales pitch for why we should use our phones less around our parents, which secured him an interview, and eventually landed him a job in sales at the company (which then only had ~700 employees at the time). With student debt payments chasing him, leaving a stable Sun Life for a startup Shopify was a big financial risk, but it was one he knew he had to take. To Zack, building sales proficiency was the first step to becoming an entrepreneur.
At Shopify Zack excelled and carved out a niche for himself in the Men's Streetwear category. Not only did Zack's job give him the chance to build sales skills, but because the platform's mission is to empower entrepreneurs, he got to rub shoulders with business owners all over North America. These included the likes of Corey Gilkey, a Chicago-based streetwear founder, who became a close mentor and taught him the ropes of brand building.
Then, on a trip to Los Angeles to meet with a few of the big names in streetwear, Zack met the creators of a YouTube startup, Yes Theory. At the time, Yes Theory had a few hundred thousand subscribers and were making videos about how, "the best things in life are outside your comfort zone." Zack and the Yes Theory team hit it off, and he agreed to help the group launch their first e-commerce brand, Seek Discomfort.
Around that time, Yes Theory was looking for a manager and asked Zack if he would join them. In a bit of an entrepreneurial identity crisis, he realized he had to do it. He had to leave — what had become a comfortable job at Shopify — to pursue his ultimate dream of building something on his own.
Zack left Shopify in early 2018 to move to Los Angeles to manage the group full-time. In his mind, this wasn't about becoming a manager, as much as it was about shaping the future of the digital industry. That's when his company One Day Entertainment was born.
One Day can be best described as a diversified media company, with a focus in helping digital creators spin out businesses and partnerships that can fund their creativity and expand the core of their missions. Their philosophy is that digital creators don't need managers, they need CEOs.
When asked what he does on a daily basis now, Zack describes himself essentially as a dot connector. Some days he's on back-to-back phone calls. Other days, he's evaluating video ideas, producing episodes, or working to secure partners to fund larger projects. Zack has inked deals with big brands such as Google, Headspace and New Balance, and has built paywalls for documentaries, started a hard drive business, founded a candle company, helped build a top #25 podcast, and more. Every day is different, and no day is boring.
But that dynamism and excitement comes with its own challenges. Zack describes management as being always on. He says, "you always have to be accessible and ready to take a call, which makes it very hard to disconnect." It's a fallacy that working for yourself means you work less. His experience is the opposite. But that's only made Zack realize the importance in "doubling down on what you believe in."
In this dynamic, fast-paced industry, Zack says good ideas and opportunities are never in shortage. That's why it's important to build a muscle of saying "no" to what's good, so that you can direct your energy and efforts towards projects that will have the most scale and impact, and connect most deeply with your personal mission.
Reflecting on his time at Laurier and what has happened in his career since, Zack encourages students to network — in their classes, departments and all around campus. He says of his own experience, "a lot of students were thinking about all the things that were school oriented (e.g., grades, writing essays), and I was thinking about what I can leverage and can take advantage of within the school ecosystem."
He says one of the most underrated parts of the student experience is thinking about the entire experience as a whole. When you leave school, one of the things you'll look back on with regret or gratitude are the relationships that you're walking away with. Did you make the most of your time? Did you reach out to the alumni network via LinkedIn, attend club events or attend career fairs?
These are all experiences that you can tap into that will help you better understand what you want to do, who you want to become and what it's going to take to get there. Reach out to your peers, professors and people in the broader network to learn about various opportunities and get in the flow.
Zack was only able to realize that he wanted to be an entrepreneur because he went to class and learned the basics of business, networked with all sorts of people from around campus, read lots of books and started his own tutoring business to test out his skills. The stacking of all his work, school and life experiences and relationships led him to Shopify and his willingness to take advantage of the opportunities that presented led him to start One Day Entertainment.
His final advice is simply this: "Your career and your life are not going to be a straight line, so the best thing you can do is get moving and figure it out as you go."