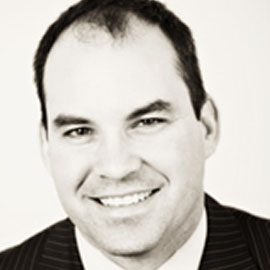 Entrepreneur, President (Geography, BA)
Michael Low, Symbiotic Group Inc., Information Technology and Services
Laurier alumnus, Michael Low, shares how he turned his arts degree into a thriving business and why giving back to his community matters.
"The best part about being an entrepreneur is the opportunity to follow your vision, overcome challenges and feel good about the work you are doing," says Michael Low, president of Symbiotic Group Inc. Symbiotic Group is a consulting company with a focus on providing IT and business consulting and Indigenous business consulting services, including Indigenous recruitment and Indigenous awareness training. As president, Michael is responsible for directing the business activities that ensure that Symbiotic Group provides clients the IT and business experts that solve problems and get things done. A service unique to Michael's company is its focus on Indigenous awareness training. Symbiotic Group is one of two companies delivering Indigenous awareness training to the Government of Ontario.
Michael is uniquely positioned in his career to create awareness through economic development, which will better Indigenous peoples as well as Canada. Michael's family is from the town of Killarney on the north shore of Georgian Bay. He is a proud Ojibway and community member of the Wikwemikong First Nation on Manitoulin Island. In Ojibway, Wikwemikong means "bay of beavers."
"The decision to include Indigenous peoples in my business was largely my decision," says Low. "There has been client demand, but overall, I have always felt that one way for me to give back is to leverage my corporate experience to create opportunities for other Indigenous people."
"I have the knowledge, experience, and capability to work with organizations in both the public and private sector and make them aware of the benefits of engaging Indigenous people. We have assisted companies by providing training, business consulting, and the guidance needed to hire talented people", says Low.
There is a growing interest in hiring talented First Nations, Métis, and Inuit people. Last summer, Michael's company was hired to provide IT consulting in 34 Northern Ontario First Nation communities. Symbiotic was responsible for assessing the technical readiness of the communities and reported back to the Government of Ontario.
Balancing Hard Work and Opportunity to Find the Right Career Fit
Such is the case for many students coming out of high school; Michael did not know what he wanted to do after graduation. He considered himself to be a good student, but was unsure that university was the right path for him. Michael's older brother and sister had gone to university for geography and were strong influences in Michael's decision to attend university. Michael based his choice of university program on two areas that he felt passionate about: the outdoors and business.
While Michael took a while to figure out his career journey, he tried out new things whenever he could, and realized that learning came from each opportunity. He discovered his entrepreneurial flair through running a window cleaning company during the summer months while in university. The experience of running his own business enabled Michael to pay for university, but also enabled him to apply his studies in a practical way that helped him secure a job after graduation. Michael found his first job out of university using the Career Centre's website. In the original job posting, it stated that the hiring company was looking for business graduates, but Michael did not let that deter him, he applied and got the job!
Michael built up his experience and learned much about being part of a young growing company, and after two and a half years he moved onto another sales role at a recycled plastics company. Attracted again to the challenges and rewards of working for a startup, he opted to work on commission and was up to almost a million orders. Low jokes, "I thought I was headed for early retirement." Unfortunately the product he was selling needed further research and he left the company shortly afterward. After some time abroad, Michael came back to Canada ready to plan his future. His next job was for an IT start up in a sales associate position. He had the opportunity to build an IT professional services practice that had a focus on supporting the public sector. After six years on a contract basis, Symbiotic Group Inc, which Michael had built, was launched in 2007.
Arts to Business Success
Michael came to Laurier as a geography student, and in his first year he also started a business diploma, which he later dropped in third year to focus on his geography degree.
Post graduation, Michael did not pursue a career in his area of study but rather he explored various positions in business, eventually leading him to his current rank as president of Symbiotic Group Inc. Michael firmly believes that his university experience has given him the foundation for how to learn and tackle complicated assignments.
"What I learned through pursuing an arts degree was the ability to think critically and learn. The completion of various courses of study required the ability to raise questions, research, prove, and prepare written responses to specific questions. These are skills that I have used throughout my career and continue to use on a daily basis as a business owner and entrepreneur," asserts Low.
Michaels says that he is a proud Laurier alumni and a proud descendent of the First Peoples of Canada. He says that his university experience contributed to his learning and success. In his first year he was a resident of Willison Hall, and even after graduation he has kept in touch with people he met in residence and through his university experience. During his time at Laurier, Michael was involved with the geography club, intramurals, and was a teaching assistant (TA) for first year geography students. Michael graduated from Laurier in 1995 with a Bachelor of Arts in Geography.
Michael offers lasting words of wisdom: "Owning your own business is a challenge, however, there are many rewards, financial rewards, intrinsic value, and creating benefit for both your customers and employees and the world around you. But that doesn't come without a cost; there are challenges when you're growing a new business from scratch. It takes a tremendous amount of time. You need the support of your loved ones and family and there is also the inherent risk to trying something new, but that's also the excitement of being in business for yourself."
Michaels shares key secrets to his success in business:
Know your market, know your customers, deliver quality.
Develop quality business systems with ISO 9001 Quality Standards.
Invest in the information technology infrastructure.
Have a set of advisors to evaluate ideas and opportunities.