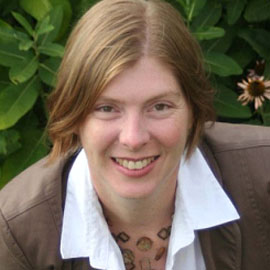 Green Marketing (Business Administration, BBA)
Susan Ratz, Milkweed Marketing          
Susan Ratz, a 1996 Laurier graduate of the Honours Business Administration (Co-op) program, discovered her passion for marketing during the duration of her co-op placements. After two work terms in accounting, Susan felt it did not satisfy her need for a more people-focused career and so completed her last work term in marketing at Peoples Jewellers. Susan is now the Owner of Milkweed Marketing, providing virtual marketing support to green-inspired businesses.
Susan has experience in event management, marketing and communications. Her extensive background includes communications coordinator at Hutton House, event coordinator for the MS Society, assistant product manager at Fuji Photo Film and corporate marketing at Peoples Jewellers. A major highlight of her career was working in the not-for-profit industry for 10 years in an effort to raise awareness and sponsorship for various causes.
For Susan, each area she worked in used the basics of marketing as well as specialized skills. For example, retail marketing required lots of teamwork with merchandisers and store staff to ensure that signage was not only impactful, but promoted specific categories of jewellery and was easy for staff to install. Product management was more analytical, while the event management side required excellent organizational skills and the ability to deal with the stress of last minute changes.
Susan suggests to those students still trying to determine what capacity of marketing they wish to fulfil to, "look to work for organizations with a small marketing department where you can get experience in all different areas, and also have support from more experienced staff." Staying on top of trends that impact the field of marketing is also important, "especially with the on-going and exciting growth of online methods, there are a lot of specialization areas under the overall umbrella of marketing." 
Students considering a career in marketing should not underestimate the importance of finance and accounting classes. "Absolutely marketing has a creative, fun side to it. But I believe the best marketers are those who also understand the financial aspects of business and bring it all together, being leaders for their respective projects and organizations." 
For Susan, her intermediate accounting classes helped her establish positive relationships with finance and accounting colleagues, manage marketing budgets and speak confidently to financial statements in board meetings. She also notes that as online marketing grows, the ability to interpret google analytics data, e-newsletter statistics and returns for online ads requires a strong comfort level with numbers.
Susan's entrepreneurial spirit in combination with her green lifestyle and marketing experience, led to the development of her new venture Milkweed Marketing in 2012. Milkweed offers a variety of resources and marketing efforts for green businesses (including blog posts and newsletters) and can help green businesses develop a recognizable, consistent brand. Susan offers a complimentary introductory phone appointment (called a compost session) to connect with clients.
Susan loves the flexibility of her career, which allows her to balance her career goals and family life and greatly values helping clients who themselves have made a commitment to the earth by developing green products and services.
Susan's final advice to students before creating a start-up business is "do research and set aside enough money to minimize the stress of your first year in business." Susan is also a huge advocate of networking: "Be brave, contact people and ask to meet them for a 15-minute informational interview. Prepare a short list of questions and be ready to learn. I did this before entering the not-for-profit world and it was very helpful. I also landed one of my all-time favourite jobs through networking." Networking was also critical in the introductory stages of Milkweed Marketing as Susan reached out to past peers that she attended university with for advice from other established entrepreneurs. Susan urges students to "remember to spend time developing and maintaining relationships with classmates. The relationships that you maintain become critical networks when developing your career in the future."