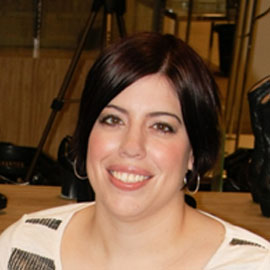 Events Manager (Communication Studies and Sociology, BA)
Andrea Harding, Communitech
Andrea Harding graduated from Laurier in 2003 with a degree in communication studies and sociology. As a student she volunteered with the Laurier Student Alumni Association hosting a number of events for students and alumni. Through this experience, Andrea realized that she enjoyed the process of coordinating and executing events and the idea of a career in event planning was born. Following graduation from Laurier, Andrea pursued the postgraduate program in Sport and Event Marketing at George Brown College, which helped her develop skills and experience in marketing, event management and building sponsor relationships. Following some time off for travel, Andrea returned to Toronto and worked as a special events assistant, but realized she missed the sense of community that she felt in Waterloo Region. Realizing she was interested in further pursuing a career in event management, Andrea initiated meetings with various people around the region who work in the field. One of those meetings led Andrea to securing the role of events coordinator with Communitech, a not-for-profit organization that supports technology companies in Waterloo Region and promotes the area as a technology cluster. She has recently taken on a role as their events manager. In addition, she is an ardent volunteer that recently resulted in her being named one of Waterloo Region's Top 40 under 40 as a result of all of her passion and hard work.
Andrea loves her job in event management due to the variety of people she meets, and the continuously changing schedule. Her job helps her to feel connected to her surroundings since event planning keeps her 'in the know' for events happening in her community. Andrea says that her time at Laurier aided in the development of the skills needed to effectively deal with people from a range of backgrounds – something she faces in her role on a daily basis.
One challenge to being an event manager is the proverbial problem of not having enough time in the day. For this reason, a successful event manager should be organized and able to multi-task to keep stress levels to a minimum. "I often have more than one event coming up and I need to be able to keep everything in order for all of them, as well as be able to jump from one to the other at the drop of a hat because something came up." If you are a person who doesn't like surprises, you may want to rethink a career in event planning because as Andrea points out, despite proactive and detail-oriented planning, things inevitably come up last minute and you need to be flexible enough to roll with the punches and quickly devise solutions. In addition to being flexible, an outgoing personality is key to being successful as you are constantly meeting and communicating with multiple people involved in executing the event (e.g. food providers, technology services for video-taping the event, guest speakers, media, guest and sponsors).
Event coordinators can work anywhere from large corporations to hospitality. They plan a variety of events including corporate retreats, meetings, fundraisers, not-for-profit affairs, weddings, conferences, tradeshows and other social functions. The event field is growing since more and more corporations are moving to hire coordinators for their events. Starting salaries for event coordinators range from $30,000 to $35,000 in the not-for-profit sector and $40,000 to $45,000 in the corporate sector, and can vary greatly depending on the size of the organization. As coordinators progress, advancement can lead them into positions such as event manager, director or even into business development and client engagement roles.
To enter this field, volunteer experience provides excellent experience, particularly if you are able to help plan an event for an organization you believe in. Many people only volunteer the day of the event, which is great, but striving to become involved in the pre-planning and post-evaluation is even better experience to grasp the complexity and full range of tasks that are involved. This experience is a good opportunity to learn what the industry is all about and what skills are required. It also provides a good networking opportunity as many people have already been in the business for five or more years and can help you be successful. Andrea gained great experience in her volunteer work with the Chamber Young Professionals Group and she highly encourages students and new graduates to join this group as part of their career planning. The best way to be successful in this field is to find your passion. "Life is too short to do something just for the money, you need to find a workplace that fits you and your personality," says Andrea. "Success comes when you love going to work every day and you feel motivated to move upward."