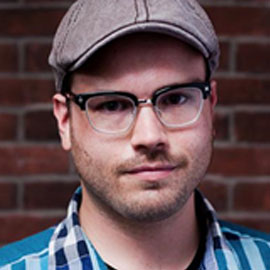 Fundraising and Marketing Account Executive (English, BA)
Brock Warner, Stephen Thomas Ltd.
Brock Warner is an account executive with Digital and Direct at Stephen Thomas Ltd., a private company that performs marketing solely for non-profit organizations. Preceding this role, Brock spent three summers in a fundraising and development role with a hospital foundation. Brock holds a Bachelor of Arts (English) degree from Laurier and a postgraduate certificate in fundraising and volunteer management from Humber College.
One of Brock's responsibilities is to help plan and implement direct marketing strategies for a number of different non-profit organizations, while staying within their specified budget. Charitable organizations are only able to use 35% of donated funds to cover their administrative costs, making their budgets extremely stringent. The difference between marketing and direct marketing is that direct marketing campaigns are a call to action and the responses received make them easily quantifiable. For instance, Brock has been involved in a variety of mailing programs, where letters are mailed out to families to ask them to donate and then the response rate is measured by the number of people who either choose to donate or who write letters back. This is one of the things he says he loves about working with charities; he is able to see a project through from beginning to end, and witness first-hand the difference his marketing campaigns are making for the non-profit organizations with whom he works.
Brock is involved in every step of the marketing strategy, from developing story boards and preliminary ideas, to calculating the response rates of direct marketing strategies. The front end of a campaign is all about being creative, because this is when he has to help write creative briefs. These provide specific instruction and context to the client, copywriters and graphic designers. Results from previous campaigns inform each subsequent marketing strategy, so he is constantly learning and altering his campaigns. Direct marketing campaigns are valuable to the non-profit sector because they provide quantifiable results. Brock comments "if you can't track it, you can't improve it."
One of the things Brock loves most about his job is that given the nature of direct marketing, the results of each campaign are measurable, and there is satisfaction in knowing that the results of each campaign benefit a charity, rather than a corporation. He says that he wouldn't be doing these tasks if he was working for a large corporation, because he truly believes in the work of these charities. He enjoys seeing the results of his work and being able to draw a very direct line between the time and effort he puts in at the beginning of the campaign, the translation of that into a strong campaign, and then the tangible results that will go directly to a cause. One of the things he loves most about his work is the positive energy and the amazing people he gets to meet. He states, "It's about helping people, I love the charities and what I do in my job." Brock loves being able to work with a variety of different charities because he is able to help a lot more people that way. The types of people who choose to work in the non-profit sector do it because they love to give, and everyone has their own unique story and pathway of how they ended up there. Brock's path began when he was offered a summer student fundraising position for the Trenton Memorial Hospital Foundation. He hadn't considered fundraising as a career option until he met a consultant in the hospital that recommended he look into complementing his BA with a postgraduate certificate. After Laurier, he went to Humber College and was hired at Stephen Thomas after finishing an internship with Amnesty International.
Brock has a fairly regular work week where he has seven clients that he has to be available to during standard business hours (generally 9-5). He typically works 40-50 hours a week and his work doesn't often spill over onto weekends, affording ever important work-life balance. When asked if he had a tagline, he responded with "to help charities raise more money". He is extremely passionate about the work he does at Stephen Thomas, and he is very happy with his current career.
For fundraising specifically, the Association of Fundraising Professionals (AFP) is a great resource. They hold webinars and conferences of different sizes throughout the year. There are also several other annual conferences that are great for networking – Digital Leap, Artez Interaction, My Charity Connects, to name a few.
Volunteering is a great option for getting your foot in the door. Brock suggests trying to volunteer within an actual development/fundraising office, rather than an event, unless you want a career in event planning. Getting inside the office and getting immersed in the corporate culture of fundraising is a great way to find out if the non-profit sector and/or a career in fundraising is right for you.
The best blog/website to follow for any fundraiser is SOFII – the Showcase for Online Fundraising Inspiration and Innovation. It was founded in the UK, but now has an international line-up of contributors.