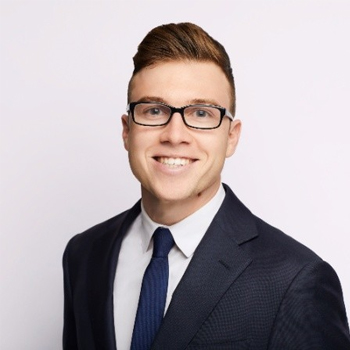 Senior Forensic Accountant (Business Administration, BBA)
Ryan Turner, Meaden & Moore International
By: Bailey Hall, Outreach and Support Peer

Ryan graduated from Wilfrid Laurier University in 2014 with a Bachelor of Business Administration specializing in accounting. Ryan originally started his career path as a public accountant but quickly realized it wasn't the perfect fit. He discovered an opportunity to work in forensic accounting and was drawn to the prospect of more investigative work. Ryan particularly enjoys that forensic investigations contain a lot of uncertainty, and Ryan enjoys not knowing exactly where the work will take him.

When determining a career to pursue, Ryan considered other paths such as insolvency. He liked the aspect of helping people get their finances back together by restructuring their debt in order to make their payments.

At Laurier, Ryan deviated from the typical 'club joining' route and instead was heavily involved in the athletics department and would often have up to five intramural sports a week. Ryan was also involved in the co-op program where he completed all of his work terms at BDO in the public accounting sector.

When discussing the qualifications and education requirements for a forensic accounting career path, Ryan stated that a typical forensic accounting career would start in the audit and assurance division at a public accounting firm and then later move into the forensics division. In terms of educational requirements, as there are no undergraduate degrees related to forensic accounting, specialized education typically occurs after a person has already gained forensic accounting experience. Ryan mentioned that the Chartered Business Valuation (CBV) program and the Masters of Forensic Accounting program at the University of Toronto are quite popular among forensic accountants.
 
Ryan mentioned that some important skills and interests suited to forensic accounting are having a curious nature and being willing to 'look beyond'. Someone who is naturally skeptical and is interested in why something works the way it does will naturally compliment this work. To be successful in this field, you can't be afraid to ask questions and have to be a people-oriented team player. Ryan advised that meeting people and networking are very important for career advancement.

Within forensic accounting, there is no typical week. Ryan explained that the work is very project based and thus one week to the next can be very different in terms of the type of work, the amount of work, and the pace at which things are due. This is different from his previous work in public accounting, which he found to be more predictable and scheduled. Therefore, Ryan deals with time sensitive work on a week-to-week basis, which can sometimes cause challenges such as planning for vacation time.

When looking into the future trends of the industry, Ryan sees electronic fraud becoming even more common, creating a larger focus on computer forensic investigations such as using eDiscovery software to review and filter thousands of emails. If you are interested in the fraud aspect of forensic accounting, Ryan suggests looking into various organizations that have frequent fraud related articles (i.e. the Association of Certified Fraud Examiners) as well as visiting the CPA Canada website as they also have articles relating to fraud.

If Ryan could travel back in time to his 'student self' to bestow wisdom, he said to make sure to take advantage of your free time. Being a student, you have more free time than when you join the working world - so take advantage of it!