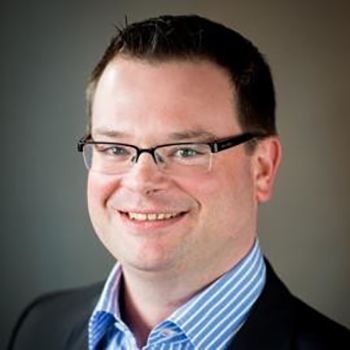 Licensed Insolvency Trustee (Political Science, BA)
Jeff Penston, Welker & Associates Inc. 
By: Matthew Gregorchuk, Outreach & Support Peer

Jeff graduated from the Political Science program with the business administration option in 2001. Jeff originally had plans to go to law school, but after graduation he was eager to enter the workforce. He secured an administrative role in a Licensed Insolvency Trustee's (LIT) office in 2001, where he then moved to Welker & Associates in 2007 and began working toward the Licensed Insolvency Trustee credential. Jeff earned his license in 2010 and has been working with Welker & Associates ever since.

Jeff's main role is to provide advice and services to individuals and businesses with debt problems. LITs first meet with clients to assess and understand their financial situation which helps them to identify the best solutions possible. Should the client wish to proceed, the necessary information is collected and required forms are prepared and signed. The bankruptcy and insolvency process is legislated under the Bankruptcy and Insolvency Act, and can be seen as a financial tool to help individuals and businesses effectively manage and settle their debts. The process can be stressful, particularly for individuals, so it's important that the LIT be knowledgeable and professional to help guide the proceeding.

While LITs deal with bankruptcy and insolvency issues most of the time, each new client or business he works with demands a unique set of skills or area of expertise. Individual debtors could be dealing with legal issues relating to family, real estate or tax law, so it's important to have a working knowledge of different disciplines. It is the diversity of skills needed to complete the job that makes Jeff so passionate about working as an LIT. One of his favorite aspects is the combination of accounting and legal knowledge required to complete day-to-day tasks. Jeff mentioned that he utilizes the knowledge from his business courses, as well as the legal knowledge from his political science training on almost every task or engagement he completes.

According to Jeff, the essential skills needed to be successful in this job are communication, critical thinking and compassion. Being an LIT involves communicating with individuals who are dealing with very sensitive and tough issues. On one side, you have clients who are trying to solve their debt and insolvency issues. On the other, you have creditors and other parties who want the money they are owed so they can reach their organizational goals. Jeff mentioned that a successful LIT is one that is able to communicate with empathy and understanding toward both parties, thereby creating a 'win-win' situation.

Being a Licensed Insolvency Trustee isn't exactly a role you just fall into. It requires a significant amount of preparation and time to complete the requirements of the license. Jeff completed his license in 3 years (from 2007 to 2010), however, he mentioned that the licensing course of study has changed since he obtained his designation. Though it is now possible to obtain a license in a shorter time frame, most candidates should expect the process to take 3-5 years. To complete the license, you must:

• Successfully complete the Chartered Insolvency and Restructuring Professional (CIRP) Qualification Program (CQP) including both a core knowledge and applied knowledge exam. The course concludes with the CNIE (competency based national insolvency exam). The program is designed to provide a technical and practical background in insolvency and restructuring.

• Successfully complete the Insolvency Counsellor's Qualification Course.

• Acquire a minimum of 2,400 hours of relevant insolvency experience over the duration of the program.

• Pass an Oral Board of Examination. This is a test where you are required to answer long- and short-answer questions, and then present your findings to a representative from the Office of the Superintendent of Bankruptcy of Canada, a Licensed Insolvency Trustee and an Insolvency Lawyer simultaneously.

Although the process to obtain the license can be intimidating and lengthy, Jeff says that the Political Science and Business courses he took at Laurier gave him a solid understanding of basic and advanced business and legal concepts which helped him tremendously while studying for his license-related exams. As a result, if you are looking to become a Licensed Insolvency Trustee, Jeff highly recommends taking as many business and political science/law courses as possible in university.

To acquire additional knowledge or experience as a student, consider applying to work in administrative-type roles in an office of a Licensed Insolvency Trustee. Although this position may be tough to find, it is a unique way to learn about the day-to-day tasks of an LIT. If no positions are available, consider reaching out to Laurier Alumni on LinkedIn to learn more about the role. Getting involved in business or law clubs on campus can also help you learn more about opportunities in the field and will allow you to meet others who share your interests.