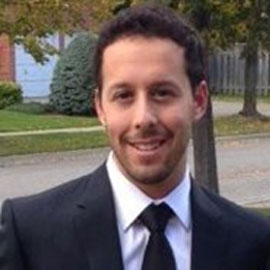 Vice-President, Finance (Business Administration, BBA)
Jason Birken, H&R Real Estate Investment Trust
Following graduation in 2007 from the Bachelor of Business Administration (BBA) program with a concentration in accounting, Jason Birken began working at a Big Four accounting firm, PricewaterhouseCoopers LLP (PwC). Like many new graduates in accounting, Jason started in the audit and assurance group, gaining exposure to a variety of industries including real estate, automotive and not-for-profit. The experience provided him with a valuable opportunity to interact with many different clients as well as a great platform for further developing essential skills like organization, communication and the ability to multi-task. Jason believes that the experience he gained at a Big Four accounting firm allowed him to continue to build on his career path. Following three and a half years in the audit and assurance group of PwC, Jason decided to move into industry and took on a position as controller with H&R Real Estate Investment Trust (H&R REIT). H&R REIT is Canada's largest diversified real estate investment trust with total assets over $13 billion. It has ownership interests in a North American portfolio of office, retail and industrial properties comprising over 49 million square feet. His Controller position at H&R REIT differed significantly from the world of public accounting as he was now responsible for the many internal finance and accounting issues of one specific company within the real estate sector.
After three years in the controller role, Jason was promoted to vice-president, finance of H&R REIT. He credits his success to having an environment where he is surrounded by great mentors and teachers both inside and outside of H&R REIT. Jason is involved in financial reporting, finance and compliance functions, treasury management and investor relations. Since Jason started at H&R REIT, he has been involved in over $5 billion in real estate transactions, including the acquisition of Primaris REIT. Jason believes that one of the exciting things about a career within a public real estate company is that you are always in a constant cycle of buying and selling, raising money and spending money. This makes Jason's career very exciting as every day brings new challenges and opportunities. The real estate sector is a fast-paced environment that is often changing with market fluctuations. For example, 2011 to 2013 were instrumental years for many REITs in the acquisition cycle, however by 2014, the market saw many major REITs enter the disposition cycle more actively as real estate prices and competition for assets continued to increase.
To pursue a career in the accounting or finance side of real estate, a university degree in business with a concentration in finance or accounting is essential. Jason believes that it is important to gain valuable transferable skills such as communication, organization and the ability to multi-task. Overall, Jason encourages students to work on their "people" skills, as this is something he believes cannot be taught out of a textbook. Jason worked on developing these critical skills in his second year at Laurier by getting involved on campus. He joined the Lazaridis School of Business and Economics Student Council where he was in charge of dealing with faculty relations. This involved sitting on several faculty committees, such as the curriculum committee for the undergraduate BBA program. He also served on the Career Centre Advisory Committee and was the marketing director of the Atrium Magazine. Jason believes these combined experiences played a significant role in rounding out his resumé.
Jason strongly believes that students should not inundate themselves with concerns about being accepted into the co-op program. As someone who did not take part in the co-op program, Jason is living proof that there are still plenty of ways to be successful without having the benefit of Laurier co-op behind your resumé. There are still plenty of resources through the Career Development Centre and ways to self-initiate meaningful summer jobs and skill-building volunteer experiences. For Jason, he utilized his personal network to foster a summer accounting position with Vision Group of Companies. Jason credits a mentor he had at Vision as being instrumental in helping him develop his skill set and attain his first full-time job after Laurier at PwC.
When asked about the future of real estate in Canada, Jason believes that interest rate movement will have a significant effect on where both commercial and residential real estate prices go in the future. With Canada currently in one of the lowest interest rate environments in its history, he believes that it will be interesting to see what happens when interest rates eventually rise. For larger REITs such as H&R, which are known to have "pension-like" quality assets, he believes they should be less affected by a spike in interest rates.
Commercial real estate continues to be a growing industry in Canada. There is a lot of career potential and many types of roles at different companies. For students interested in real estate, you can find useful information on the OREA page (Ontario Real Estate Association) and the Canadian Real Estate Magazine and Real Estate Wealth Magazine. Jason also encourages students to attend networking events both inside and outside the real estate field, as you never know who you will meet and all it takes is one conversation to open a door.
Jason is living proof that you don't need to be the perfect student to climb the corporate ladder. Considering how his university career began, Jason has achieved a tremendous amount in his career thus far. He was very close to failing his first business mid-term, as he did not answer a single question for over an hour and a half during the examination. Jason was also on the verge of dropping out prior to the end of his first semester, as his grades were poor and he struggled with adapting to university life. He realized that if he was going to make something out of his life he needed to do it on his own, and slowly he started to turn his university career around. He got involved on campus, as well as met some great professors and mentors along the way. By the time he got to his last year of his BBA degree, he was on the Dean's Honour Roll.
Jason smiles when he speaks about his Laurier experiences and he is keenly aware of all the great resources he had at Laurier which helped get him where he is today. If Jason could travel back in time to bestow himself wisdom, it would be to cherish and value his university years. While he took a great deal of time initiating out of classroom experiences, he wished he had gotten even more involved in opportunities like studying abroad. Jason is incredibly grateful for all the great mentors that he has in his life, and noted that he was truly honoured to have been profiled by the Laurier Career Development Centre!