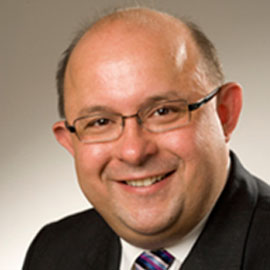 City Councillor, Kitchener (Political Science, BA)
Berry Vrbanovic, City of Kitchener
Berry Vrbanovic graduated from Laurier in 1988 with a BA in political science and a year later received his Diploma in Business Administration. Berry is presently a councillor for the City of Kitchener in Ward 2 and recently completed a term as president of the Federation of Canadian Municipalities.
As Berry reflects on his student years, he indicated that although he did not necessarily know exactly where his career would end up, he had always been inclined toward politics with his earliest involvement being at the age of 14 where he volunteered with his first political campaign. During school breaks as a university student, he secured summer jobs with the City of Kitchener clerk's department and Office of the Mayor and Council. Berry humorously recounted when the first PC computers arrived in the clerk's offices, and being of a more computer-savvy generation, he was able to assist in coordinating various installations and training sessions. During his summer and part-time roles, he lead up a major project whereby he read through thousands of city by-laws to determine what needed to be repealed or updated. This initial position afforded Berry the opportunity to liaise with the legal department, as well as the city clerk in the creation of the city's first Municipal Code.
As Berry entered his final year of undergraduate study he observed that there were not any clear entry-points for a career in government, so instead, he focused his job search primarily in the business community. It was only after a conversation with the chief administrative officer for the city at the time that Berry was asked whether he had considered a career with the municipal government. Through a lengthy discussion with this contact, Berry gained some clarity on some opportunities and ultimately landed his first job as a planner within the planning department. Here, Berry compiled research for a computer-generated model on fire station locations and how locations impacted fire response times. Berry then moved into a new role before this project was completed as he was offered a client services coordinator job with the IT Department. Within this role, Berry was involved in setting up the cities first IT help desk for municipal staff, coordinating new device acquisitions, troubleshooting computer issues and was given the opportunity to manage a staff of four. Five short years later, the opportunity to seek office presented itself and Berry made a critical decision to transition out of staff life and into the political realm.
Currently as a councillor, Berry indicates there is quite frankly no such thing as a typical day. To illustrate this point, Berry recalled the day prior to this career profile interview where he had meetings with a wide variety of community groups to discuss issues; he attended a briefing session on future planning and development in the southwest quadrant of the city; attended a Prosperity Council luncheon with the Premier and then chuckled and said "the day just goes on from there!" Reading between the lines one might say that the role of a councillor is never dull with a great deal of diverse tasks.
For students considering a career in politics, Berry believes that you need the ability to be creative and have excellent critical thinking skills to analyze the diverse issues brought to the table. Berry tells people who are thinking about running for an elected role that 10% is black and white and the other 90% is different shades of grey. In other words, if you are a person who likes life to be neat and black and white, then the life of a politician may not be for you. You need a great deal of ability to build consensus amongst people as often times you have parties on completely opposite sides of an issue. Berry's approach to resolving community issues is to really try and focus on a consensus-building process to find common ground. This requires amazing communication skills.
Berry alluded to a session he recently attended on demographic trends and noted that there are significant changes in the workforce. He believes there are numerous opportunities as baby boomers retire to get into various areas such as finance, social work or planning with the city. One program he specifically endorsed is the Master of Public Administration program that affords internships and is wonderful preparation for a public sector career. He encourages students to access summer jobs with the city (such as in planning or parks and recreation departments) as a first foot in the door. Getting involved in political campaigns in particular can lead to positions with members' offices and is a great way to launch your career because it is a great networking platform for developing relationships and contacts. Finally, because government is such a big place, Berry urges students to spend time critically thinking about their interests and skills so they "can then transition those skills into their interests going forward."