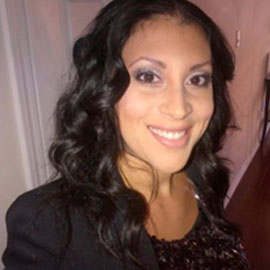 Project Coordinator, Organizational Performance (Sociology, BA)
Jeannine Chapeskie, Waterloo Regional Police Service (WRPS)
Jeannine graduated from the Honours Sociology program in 2003 with a minor in psychology. Her interest in criminology and policing/corrections began after taking an introduction to criminology course which lead her to complete a co-op summer work term at Correctional Services Canada with the International Transfer of Offenders program. During this experience, Jeannine processed applications to the solicitor general for approval for Canadians who were serving sentences abroad and wished to return to Canada to serve the remainder of their sentence. Jeannine would set up interviews with the families of offenders, work with international government officials and interpret international legislation, all of which further encouraged her interest in the criminal justice system. Jeannine then went on to complete a masters degree in sociology at the University of Guelph focused in the area of criminology. After completing this degree, Jeannine worked as an internal control analyst with a mortgage company; a field completely unrelated to criminology. At the time, there were few opportunities in the criminology field, but she wanted to still be able to use her analytical skills that she had gained throughout her academic career and co-op experience. From there, she applied the knowledge and skills she acquired from her mortgage analyst position to her next job as a research analyst planner with the Waterloo Regional Police Service (WRPS), to which she applied through the Laurier Alumni Employment Service. This allowed her to work in the policing and corrections environment before moving into her current role as a project coordinator with the same employer.
In her current role, Jeannine deals with ongoing projects with objectives that have been set by the senior leadership team. She puts together a team of cross-departmental experts based on the subject matter of the project at hand and meets with them to ensure requirements are being met. Using Six Sigma, a process improvement tool, Jeannine finds ways to make processes in the organization more efficient. After completing some analysis, the team presents their recommendations for the project. Examples of projects that Jeannine has been a part of implementing include improving the turnaround time for officer reports to get on their record management systems, improving the operations of the canine program and reducing the amount of errors that may occur in various record management aspects of policing.
A typical day for Jeannine includes meetings where she guides cross-functional team members through the six sigma methodology for improving a service or a process, presenting updates and decisions to senior leaders and implementing change management. She states that for this line of work an individual needs to be interested in creating efficiency, engaging people in their organization and enjoy working in teams.
Jeannine enjoys her job because it is related to public service and she is working to make the community better. She likes that she is able to make the services that the WRPS provides more efficient and effective for a "better return on the taxpayer dollar." Just as with any career, there are different challenges that can arise. Jeannine mentions that government processes tend to move slowly, so creating change based on a higher degree of efficiency is something that takes time. Jeanine works to get people on board with different ideas that will ultimately improve the services of the WRPS. Funding is also something that can be a challenge as publicly funded organizations often have designated amounts of money to spend on different areas of service making it sometimes difficult to organize projects within confined budgets. Jeannine notes that six sigma is a helpful tool in this respect as it aids in streamlining processes and allows one to find ways to complete tasks without over spending and possibly even saving money.
Most project coordinator roles require a degree in business or equivalent in experience. Jeannine also states that a masters degree is beneficial because the practical research, analysis and statistical skills you gain from the degree are fundamental to this type of role. In addition, it is beneficial to build professional summer work experience as it allows you to be more hands on and apply what you have learned to a workplace environment. She also points out the importance of self-motivation and leadership skills "as you are working with a project team that will look to you for guidance and for you to facilitate them through the projects and its deadlines."
In order to increase chances of success in this area, Jeannine encourages students to continue to take courses in relevant areas of study. Since completing her master's degree, Jeannine has obtained her Canadian Risk Management (CRM) certification (as risk management is a relevant aspect that is used when working on projects), six sigma, and is currently working on her Project Management Certification. She is also a certified law enforcement planner and a Canadian municipal manager with Police Specialist certification. She stresses that a degree "gets you in the door" in terms of your skill set, but continuous learning and acquiring relevant certifications becomes important as things are always changing in the field and it is essential to stay current. It is useful to consider the benefits that an employer offers, as some will pay tuition for education that is related and beneficial to an individual's job.
Jeannine is a member of the Risk Management Society, has a membership to a Six Sigma organization, and both the International and Ontario Association of Law Enforcement Planners. Having a membership to either (any six sigma organization is useful) can be beneficial for students looking to become more involved in this career area. Knowledge of six sigma is especially important as Jeannine predicts that continuous streamlining and cost-efficiency will continue to be a trend. Police services are part of the public sector, making it essential to make the most out of the tax dollar.
If you are interested in a career in project coordination, consider applying to co-op programs and summer employment options at companies related to this field. In addition, Jeannine recommends networking with people in the industry and to keep investing in yourself in terms of your education.