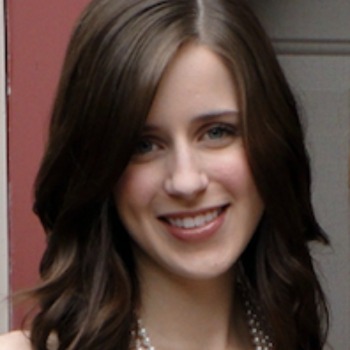 Child Life Specialist (Psychology, BA)
Victoria Trendota, Hospital Setting
By: Emma Scholtz, Career Centre Peer 
Victoria Trendota's professional journey to becoming a Child Life Specialist was interesting in that she was initially enrolled in the Global Studies Program at Laurier, but instead discovered a strong passion for mental health and child development. This discovery ultimately led her to graduate with a Bachelor of Arts in Psychology. 
The first chapter of Victoria's career following graduation included a graduate certificate in addictions and mental health where she worked for several years in an addictions counselling capacity. It was after reflecting on her own past experience as a patient at Sick Kids and meeting a Child Life Specialist during that time, when Victoria realized that her passion was working with children. As a result, Victoria began more youth-related volunteering including serving as a Child Life Volunteer with the Hospital for Sick Children, which prompted her to obtain her master's in Child Life and Paediatric Psychosocial Care from McMaster University. 
Child Life Specialist's work to help children between the ages of 0-18 and their families cope with difficult life experiences. Those employed as a Child Life Specialist can work in healthcare environments, grief organizations, community youth services and private practice providing services in the community. Victoria's role is to help decrease the fears and anxiety that children and their families experience around the unknown, unfamiliar, and stressful medical environments that are caused by difficult medical procedures, diagnoses, and circumstances. 
As someone who works in an ambulatory clinic with outpatients, Victoria said that every child, family and day is different. She starts each day with looking at what outpatient clinics are running and to see if there are any scheduled procedures that she can assist with (e.g., supporting a child through a burn dressing). Some cases require her to prepare a child for blood work/IV, provide support to anxious children or provide children with a developmentally appropriate understanding of their healthcare experience.  
According to Victoria, most organizations are looking for Certified Child Life Specialists. To become certified, you need a bachelor's degree at minimum with specific course work related to Child Development, 600-hours in a Child Life Clinical Internship role that is supervised by a Certified Child Life Specialist, as well as a written exam and ongoing professional development. While there is a preference towards having a master's degree, it is not a requirement to become a Child Life Specialist. Victoria's master's program provided her with support through her internships and reassured her that the master's program was fulfilling all the requirements to become certified. Based on Victoria's experiences, many Child Life Specialists stay in a patient-facing role with opportunities in different areas such as inpatient, outpatient, intensive care and many more. Others may eventually decide to pursue non-child facing roles in management/supervision. 
Victoria's passion is being able to advocate for the needs of children and families during some of the most difficult times that they may encounter. She feels it is a privilege to even be a small part of their story by being an advocate and a voice, as well as providing her patients with a sense of control in otherwise uncontrollable situations. While this role can be extremely rewarding and fun by playing games, making jokes and being silly with the kids, it can also be very difficult at times. A lot of Victoria's time is spent explaining to kids in a developmentally appropriate way what is happening to reduce anxiety and fear of the unknown. 
Due to the complexity and emotional capacity that is involved in the role as a Child Life Specialist, Victoria believes that those who are successful in the role must: 
Be flexible as no day is the same and have the ability to 'go with the flow.'  
Have strong communication and teamwork skills as you will be working with doctors, nurses,
parents, siblings, etc. 
Be creative, as you will never know what is going to happen when you walk into a room or what the needs of the patient might be .
Be silly and have fun! This helps to make kids and families feel more comfortable, and contributes to the development of rapport.  
Be empathetic and have insight into what the kids and families are dealing with. 
Have a love and passion for working with children! 
For those interested in the role of a Child Life Specialist, Victoria highly recommends volunteering in paediatric programs at hospitals, or in schools, daycares or camp settings. Essentially volunteer anywhere you can build up your experience working with children.  These volunteer opportunities will provide the ability to network with others in the field and Victoria feels her volunteering helped to confirm her desire to pursue the occupation. 
Victoria also recommends being open to similar jobs with different job titles. Instead of getting caught up in searching for the 'Child Life Specialist' title, look for roles that use the same experience and skills that Child Life Specialists are equipped with. These types of jobs can be found at children's grief centres, child development programs, hospices and many other organizations serving children and families.  
For those who are unsure of their career path, Victoria believes it is important to not pressure yourself to have it all figured out or view the decision as something you are stuck with for the rest of your life. If you decide you want to change your career down the road and go back to school, just like Victoria - you can do it!