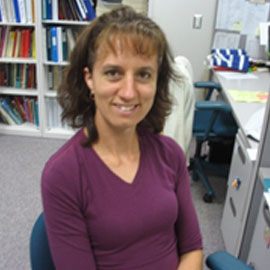 Occupational Therapist
Lori Hill
Lori Hill graduated from Laurier in 1993 with a degree in psychology and geography complimented by a few health science courses. During her education, Lori volunteered for a year as a peer advisor with the Career Centre and also worked as a special services at home worker through an organization called Extend-a-Family. Through this latter experience, Lori identified her career niche where she was matched with a family who had a four year old child with special needs. Lori was charged with the important task of providing supportive and positive interaction and opportunities for the child to socialize in the community. To augment her learning, Lori attended a conference about the child's disability where she first learned about occupational therapy (OT) as a career option and instantly realized this was the direction she wanted to pursue. Lori wanted a job that combined education (but not in a large school setting) and opportunities for more intimate, one-on-one interactions. A volunteer position at KidsAbility in Lori's final year at Laurier confirmed OT was a fit.
After graduating from Laurier, Lori went on to obtain what was actually a bachelor's degree at the time, but presently, is the master's degree at Western in Health Sciences in Occupational Therapy. The Health Sciences program also included courses in physiotherapy and speech therapy. While working towards her Health Science degree, Lori underwent four volunteer placements, which ranged from enhancing independence for the elderly in their homes, working in a mental health department of a hospital, assisting an OT with hand therapy at St. Mary's Hospital and working in a trauma unit in BC at Vancouver General Hospital. She also had an international placement planned in Scotland at a children's hospital but following a severe wrist fracture on a toboggan hill, this placement was cancelled while Lori had surgery. This served as an opportunity for the therapist to become the client as Lori underwent hand therapy in London by peers in her class who were on placement. Following graduation from Western, Lori went straight into working at Grey-Bruce Home Care out of Owen Sound where she was involved with School Health Support Services and providing home visits for clients. In her current role at KidsAbility, Lori works as an OT with children 0-18 years old with various physical and developmental needs.
Being an OT requires a lot of hard work, patience and well-developed written communication skills. A typical day for Lori consists of writing reports on her clients' history and special needs (including strengths) and determining what kind of therapy the child will require. She is constantly creating and refining programs for each individual child and writing progress notes. Although a good portion of her time is spent in writing, Lori also spends the bulk of her time assessing the developmental, sensory and mobility needs of the child, then providing either direct intervention or consulting on goal development with the child and caregivers. Lori performs these assessments in the home, in the community or at the centre.
In terms of the kind of personality best suited for OT, Lori stresses the need to have excellent time management skills, the ability to set priorities and above all, exceptional people skills. Lori outlines that half her time is spent working with people, and the other half is spent on paperwork or other indirect client care tasks such as group program development, presentations to caregivers or the community, attending interdisciplinary meetings and participating in ongoing training. When asked what she loves most about her job, Lori answered that she loves the variety of children and personalities she gets to work with, as well as getting to know what is important to a family (their goal directs her plan). Lori also derives a great deal of satisfaction out of "knowing that you're trying to make someone's life better" and she reminds herself of this when she gets frustrated or overwhelmed with her job. Lori stressed that to be effective as an OT you have to remember that we are born with "two ears and one mouth," meaning you need to be able to patiently and empathetically listen to people.
Many people confuse OT with physiotherapy. Lori explained that both are critical to a clients' care. A physiotherapist gets clients moving from point A to point B, while an OTs focus is on getting them back into their job/occupation once they arrive at point B. She noted that most OTs spend their life trying to explain their role so people understand its uniqueness. Lori states that OTs identify the occupation or job of a person (for children this could be play skills, feeding/dressing or school work) and critically evaluate the interventions needed to get them independently performing these everyday tasks with ease and confidence.
Lori believes that the profession of OT offers a great deal of career choice. Although there may not be a lot of upward mobility, there is definitely lateral mobility which allows an OT to work in a variety of different employment settings such as healthcare, not-for-profits or private environments and with a number of different clients (ages and disability). On average, OTs earn salaries ranging between $45,000 – $75,000, with the higher end of the scale being in the private sector. Private sector roles include OTs who work for insurance companies or own their own practice providing care where there may be gaps in the system or immense waitlists. Something interesting to look forward to for OTs is the advancement of technology. Clients can benefit from the use of assistive devices/technology and current OTs are constantly having to keep up with the new technology in order to serve their clients in the best way.
Lori's advice for an individual wishing to embark on a career in OT: try it first. Talk to an OT or shadow one. This will give you a better idea as to whether or not this is a path you wish to take. Read up on information about OTs and how they can make a difference (see association websites at osot.on.ca (for Ontario) or caot.ca (for Canada).