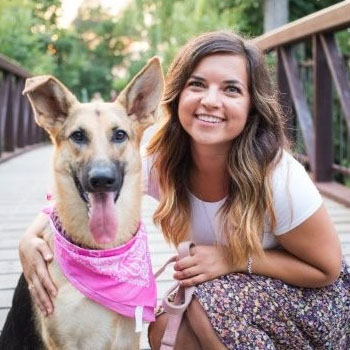 Recreational Therapist (Contemporary Studies, BA)
Jacqui Stone, St. Joseph's Healthcare
Jacqui Stone graduated with a Bachelor of Arts in Contemporary Studies. Initially Jacqui was enrolled in the Concurrent Education program, but ultimately decided that teaching was not the profession she wanted to pursue. Still interested in the prospect of working with children, Jacqui pursued a diploma in Recreation and Leisure Studies at Mohawk College with the option to pursue the Healthy and Active Living or Therapeutic Recreation stream. The idea of working in clinical settings through the latter stream was very appealing and turned out to be the best decision Jacqui ever made.

Through the diploma, Jacqui completed practicum placements in both a long-term care and hospital setting. Following graduation, Jacqui worked a combination of part-time and casual work with long-term care facilities, as well as in a temporary part-time position at St. Joseph's Healthcare, which was also one of her practicum employers. Ultimately, this allowed Jacqui to get her foot in the door before transitioning to her permanent part-time role as a Recreational Therapist in the forensic psychiatry unit.

A Recreation Therapist is a type of clinician who assesses and provides therapeutic intervention to clients based on their needs and interests. This profession focuses on five domains of health: social, physical, emotional, intellectual and spiritual to assist clients in reaching a functional level of independence. Recreation Therapists employ functional interventions to help clients overcome barriers and identify interests and current skills to help clients reach their full potential. Recreation Therapists provide education to clients to help them learn more about various resources within a facility or in the community, and focus on increasing client participation in recreation. This includes planning, directing and co-ordinating recreation-based programs for people with disabilities, injuries or illnesses. Programs can relate to all aspects of recreation including sports, games, dance, drama, crafts to name a few.

As a hospital Recreation Therapist in the forensic psychiatry unit, Jacqui's clients have been hospitalized due to a mental illness, but have also encountered the law and have been found NCR (Not Criminally Responsible) for their offence due to their diagnosis. As each patient's needs are different, her daily work life consists of helping each patient with a customized plan for success. These tailored plans consist of educating patients about the benefits of leisure and how they can use their leisure resources within the hospital and their community to cope with challenges that they face, increase their self-esteem and improve their overall quality of life.

There are many qualifications available to those pursuing therapeutic recreation. There are diploma programs, degree programs and post-graduate programs. Depending on where you want to work will depend on the type of qualifications the organization is looking for. Most clinical settings, such as hospitals, look for a diploma or degree in Therapeutic Recreation and prefer someone who is working towards their registration with Therapeutic Recreation Ontario (TRO). TRO is a provincial membership that requires a Recreation Therapist to meet many requirements in their practical experience, education, professional affiliations and professional contributions to become registered, and takes a number of years to obtain.

CTRS (Certified Therapeutic Recreation Specialist) is an internationally recognized qualification you can obtain through a certain amount of education and work experience, and is extremely valued in the field. After Jacqui completes her CTRS certificate, she aspires to one day teach the next generation of aspiring Recreational Therapists.

To be successful in this field, you need to work well in a team, be a compassionate people person, sensitive to diversity and be able to build a warm rapport with your clients and colleagues. Jacqui says being enthusiastic is essential for this profession. You must be able to convey information and plans in a way that is understandable to each client. In this way, the role is akin to teaching, only you are instructing on ways to improve lifestyle. The type of care needed for each client is not black and white, so your main priority is to connect with your client on an individual level to ensure the services are meeting their unique needs. Being in the mental health department you always have to be open to seeing or hearing things that are difficult. There is a diverse range of diagnoses and symptoms Jacqui works with. Due to the complex, and occasionally heart-wrenching situations, it is important to practice self-care or you might experience burn out.

Future trends in this profession consist of creating a better understanding of what a Recreational Therapist does, especially in the health-care environment. There can often be confusion between therapeutic recreation (TR), occupational therapy (OT) and physiotherapy (PT). PT's focus on physical health/functioning, OT's focus on adapting the environment to a person's limitations, while a TR focuses on meaningful activity during spare time that promotes an overall high quality of life. TR is essential to a health- care team because many people who are rehabilitating have lost sight of the things they enjoy and that bring meaning into their lives. Alternatively, they may need to learn how they can modify themselves or their activities to be compatible with their new situation.

While Recreation Therapists work with the entire age spectrum, there tends to be more opportunities to work with seniors than children. Recreation is highly valued in long-term care facilities since it keeps seniors activate and improves their quality of life. Most long-term care homes only require a TR diploma, since it is mostly activation-focused programs (meaning the clients often do not require intervention or have specific rehabilitative goals as they would in a hospital setting). Other diplomas that LTC may accept include Geriatrics, Occupational Therapy Assistant, Physical Therapy Assistant or Personal Support Worker. Job security tends to be much higher when you are employed in LTC facilities, although they do not pay as much as hospital settings. Because hospital settings are dependent on provincial funding, when healthcare takes funding cuts unfortunately so do jobs, including Recreation Therapists. Overall Jacqui feels that TR tends to have more recognized value in mental health and with seniors, resulting in greater job security. Recreation Therapists are also employed in rehabilitation centres as well as parks and recreation departments.

Some advice that Jacqui provides for students to increase their chances for success in this area are getting to know as many people as you can to foster your job leads and gain access to experience. It is extremely hard to get into the profession unless you complete student placements in a related field. The more experience, the better. Jacqui also encourages students to not be too picky about where you gain experience, as there is value in all opportunities. Within the profession of recreation therapy, you should also expect to work on the weekends as well.

Overall, if you are looking for a rewarding career that involves improving the health and well-being of people, recreation therapy may be for you!