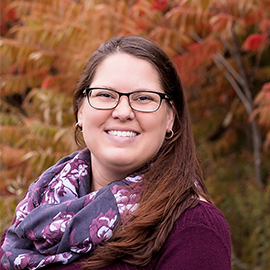 Senior Compliance Officer, Food Safety (Biology, BSc)
Julia Ryan
Julia Ryan graduated with the Honours Bachelor of Science (Biology) degree at Laurier in 2008. During her final year, she attended the Career Fair. Prior to attending this event, Julia researched the registered employers and prepared cover letters and questions to ask representatives. The Canadian Food Inspection Agency (CFIA) was one of the employers that she approached, which eventually lead to her nearly 10-year career with Canada's food safety regulatory agency. After successfully completing the entry exams and interviews, Julia was told that due to a hiring freeze, she would have to wait until the new fiscal year to begin work. So, in the meantime, Julia enrolled in the Biotechnology and Industrial Microbiology diploma program at Centennial College. She completed a co-op placement in a microbiology lab where she realized that although she enjoyed the lab, she wanted a career with more variety and human interaction. Luckily, she received the call that she had been waiting for and began working with the CFIA in April 2009 as an entry-level senior primary inspector and worked as an assistant to a team of food specialists.
Julia has held many positions throughout her time with the CFIA, often taking on various temporary roles, such as a food specialist and food safety and consumer protection supervisor to advance in her career. There are many opportunities for advancement within the CFIA as supervisors, managers, or various types of positions at headquarters. Once Julia became comfortable in her daily tasks, she sought out volunteer opportunities within her workplace and became very involved in diversity and wellness programs, as well as a mentoring initiative.
Overall, Julia's work ensures that the food Canadians consume is safe, which she says is one of the things that she loves most about her career. This involves investigating consumer and industry complaints, addressing food-safety emergencies, gathering product and environmental samples for testing, conducting inspections of food manufacturing plants, executing food recalls as well as verifying food labels for regulatory compliance. Julia points out that every day is different. Usually she starts her day by checking her messages. If there isn't anything urgent, she may have a scheduled inspection, a sample to take to the lab for testing, a follow-up on a consumer complaint, a label review, an inspection or product export report to complete, or she may simply need to prepare for an inspection the following day. She also receives regular training as the industry is always evolving.
While acting as supervisor, Julia often delivers training to other members of her team, takes part in team discussions and meetings, and spends time researching current trends in science and the food manufacturing industry to stay up-to-date. Although Julia is constantly interacting with other team members, most of the inspections she conducts are completed independently.
To be successful in this industry Julia says it's important to be self-disciplined and have excellent analytical and communication skills. You are working independently much of the time when conducting facility inspections, so no one is checking in on you to make sure you're completing your assigned tasks. In addition, because the CFIA is a regulatory agency that strictly follows legislation requirements, an analytical thinker with keen attention to detail will be most successful in this type of position.
Julia values working with a diverse team. As long as you work well with others, are eager to explore new opportunities and step outside of your comfort zone, any personality type would fit right in. However, the constant interaction with consumers, industry, and team members requires someone who enjoys people-oriented tasks.
Some challenges of the position include the large geographic area that Julia's office is responsible to cover. This requires planning and prioritization to ensure tasks are completed within the required deadlines. Also, the occurrence of overlapping jurisdictions between different government departments responsible for food safety in Canada can be challenging to determine who is responsible for following up on a particular issue. Inspectors often conduct joint inspections and/or assist one another in following up with issues found in food products and/or facilities that manufacture or sell food.
Many people in this career come from food science backgrounds, specifically a Bachelor of Science degree with additional food science courses being most useful. Additionally, if you have aspirations to work in management, experience in business or project management would be an asset. Although not required, it would also be beneficial to know French. Julia emphasized that students should pursue co-op opportunities or summer placements in order to gain experience in the field. To acquire food safety related experience as a student within the federal public service, visit www.jobs.gc.ca, where you can create a profile and search jobs categorically.
The food industry is always evolving. Julia regards the proposed new legislation in the form of the Safe Food for Canadians Act as a welcomed update to the regulatory system and a reflection of growing trends in conscious consumerism. The proposed new legislation will operate on a risk-based inspection system, making the food safety system safer by consolidating and modernizing previous legislation. Julia sees advancements in technology and science, and the use of technology, as helping to further strengthen and modernize the food regulatory system.
The best piece of advice that Julia would give to new grads is to not be afraid to step outside of their comfort zone and be involved in out-of-classroom activities. She emphasized that many people have the educational background that employers are looking for, but not everyone has volunteer experience. Julia believes it is the little extras that set applicants apart from one another.