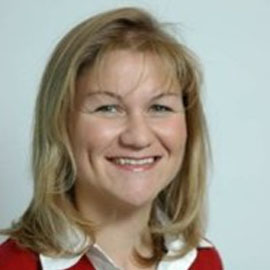 Chief Human Resources Officer (MBA)
Kristen Winter, Women's College Hospital (CHRO)
Following a BA in sociology and communications, Kristen Winter pursued a postgraduate degree at Seneca College in Human Resources (HR). Kristen originally had career aspirations in the field of teaching, however, the various teaching strikes and climate of the field ultimately deterred her from pursuing this path. Following her father's suggestion that she should look into human resources as he believed this would be a good fit for her, Kristen began researching the field and was awarded special permission to take an organizational behaviour and human resources course through the Lazaridis School of Business and Economics. These courses solidified her interest in developing a better understanding of human behaviour within the work place and the general understanding of the importance of treating employees well by engaging them in a positive work environment. "The idea that I could be a part of the organization in a positive way was appealing to me."
As part of Kristen's postgraduate program, she completed a placement at City Bank Canada, which then turned into her first full-time position as an HR assistant/compensation analyst. Following this role, Kristen gained HR management experience at Bayshore Capital, a small investment firm, and then went on to work for seven years with Shoppers Drug Mart Corporate head office in Toronto where she built her way up from being an HR Generalist dealing with one client's issues, to managing the whole office Canada-wide. In an effort to pursue further professional development and gain union experience, Kristen moved on to work at Toronto East General Hospital where she went from being a senior HR generalist to manager, Human Resources and Organizational Wellness managing and creating hospital wide policies, overseeing the pension and benefit plans, building an organizational wellness program that supports staff in a 24/7 work environment with a focus on physical and mental health and managing a seven million dollar budget. After five years she was contacted through LinkedIn to interview for a position at the Women's College Hospital, where she landed the job of director, Human Resources and Occupational Health and Safety. Soon after starting her job some shifts in structure began and Kristen began reporting to the CEO of the company, which then evolved to her current role of chief human resources officer (VP).
In her role as the CHRO, Kristen states there is no typical day on the job for her! Her daily duties can range from writing policies, determining what employees should be paid based on salary scales, reporting to and working alongside the CEO to recruit new employees, writing offer letters and negotiating contracts. Kristen also works on strategic planning for the HR department based on where they want to go, re-writing compensation structures, designing welcome packages and re-working the orientation program for new employees of the hospital.
Kristen believes that the benefits of working in HR are the fact that this career path not only allows for a lot of movement, growth and variety, but every organization has an HR department – meaning there is work in a multitude of industries. The disadvantage of working in HR is that not all human resources departments are utilized to the fullest potential. As a result, human resources can mean very different work at different places. She suggests working for larger organizations that possess a culture of not only viewing the HR department as simply payroll and paperwork, but as a department that support organizational engagement, wellness, leadership development and opportunities to value and appreciate the employees by creating innovative programs and a positive work/life culture.
With regards to personality type, Kristen believes that extroverts are better suited for her specific position because her job involves a lot of interaction and therefore she believes that individuals in her role need to be extra friendly, exude a positive attitude and must have exceptional organization skills due to the fact that she is in charge of managing many projects simultaneously. She also states that individuals must be able to deal with difficult situations as sometimes her job requires her to have very difficult conversations, such as letting go of employees. There is however a great deal of variety within the HR world and not all jobs require an extroverted nature, such as analytical positions in benefits, pension or compensation that would in fact be better suited for introverts.
Kristen encourages students who are interested in HR to take the courses offered at Laurier as a way of determining interest. She strongly suggests that students get a student membership with the Human Resources Professional Association (HRPA) because that is where the majority of HR positions are posted and can offer opportunities to volunteer and network. Kristen also encourages students to create a LinkedIn profile to begin developing contacts and interacting with various HR groups. If you are completing an arts program and did not gain the chance to undergo HR courses in your undergraduate program, a postgraduate degree is a way of gaining the relevant knowledge and provides for direct job experience through a placement that can lead to full-time job opportunities. She also believes that completing your certification to be a Certified Human Resource Professional (CHRP) is another important step to being able to grow within the HR world.
"The opportunities in HR are huge due to the fact that it opens up many doors and can lead you in many directions!"