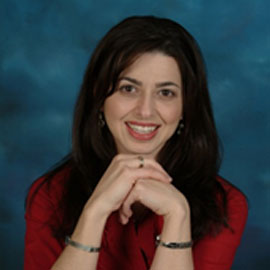 Human Resources Manager (Business Administration, BBA)
Katerina Goros, RBC
As a Laurier business student, Katerina Goros (1998 graduate) underwent two finance related co-op work terms and one marketing position. Approximately two years into her finance career, Katerina stepped back to re-evaluate her chosen path as she was beginning to feel dissatisfied and restless in her role. With serendipity on her side, Katerina was able to attend career planning workshops that were sponsored by her employer. These courses had a profoundly validating effect for Katerina as they helped to explain why she was growing increasingly displeased in finance. More specifically, it had become very evident that her personality and interests were not well aligned with a finance career. Katerina's preferred work of choice included an alignment of purpose to her values, a work mission that involved developing others and work that centred on shaping corporate culture. After doing some serious soul-searching and research, Katerina made a transition to human resources where several skills from her background such as financial analysis, planning and identifying return on investment were extremely transferable to her new career. After several roles in HR, Katerina is now a senior HR manager with Royal Bank.
As a manager, Katerina focuses on talent management strategies. More specifically she engages in performance management strategy as well as workforce training and development planning. Katerina enjoys being in a position to make a true impact on employees and loves the process of transforming corporate culture and optimizing employee satisfaction and performance.
With the people aspect missing from her finance positions but entrenched in HR, Katerina was ready to tackle a role that would complement her HR career but allow for even more one-on-one assistance to individuals struggling in their professional or personal lives. This led Katerina to attend the Coaches Training Institute (CTI) in order to cultivate a private practice in business and life coaching. Coaching is a fast growing profession that draws from counselling and consulting. Katerina describes coaching as a relationship entered by both coach and client, allowing the client to realize their true potential in life. "In other words, a coach helps you figure out what you want in life, and then champions you to make it happen."
Katerina's HR and life coaching careers have one common thread: both professions work to maximize human potential. It absolutely thrills Katerina to help clients resolve their issues and move forward in a positive life and career-enhancing direction.
A quote by Maya Angelou states, "I've learned that making a living is not the same thing as making a life." This is a key piece of career wisdom Katerina wishes she had known as a student because although your career is not your life, by following your interests and passions and dedicating time to researching your options, you will be able to discover work you will love.