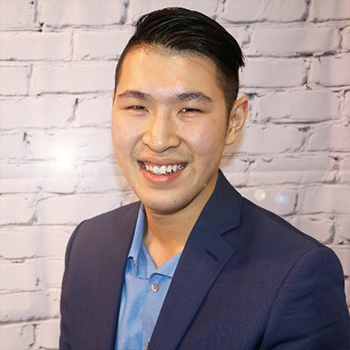 Jr. Campus Recruiter Technology, Operations and Corporate Areas (Business Administration, BBA)
Canny Chiu, Bank of Montreal
By: Jacqueline Armstrong, Outreach & Support Peer

Canny Chiu graduated from the Bachelor of Business Administration program at Wilfrid Laurier University in 2017. In his early years at Laurier, he explored the fields of marketing and accounting, but discovered his love of human resources through many roles on campus that involved working with people, coaching and creating programs for students. Like every other student, he explored many different career paths before he was set on pursuing HR. Though Canny came from a business background, he finds that many of the HR professionals he comes across are from many different educational backgrounds. Canny is also a member of the Human Resources Professionals Association and has completed his certification exams to become a Certified Human Resources Professional. He currently sits on a Campus Recruitment Team for Bank of Montreal focusing on the North American region for positions related to Technology, Operations & Corporate Areas.

Though his 9-5 job is working as a Campus Recruiter, he states that his 5-9 job is technology. He spends much of his free time immersing himself into the world of technology, learning about cyber security, learning how to code, and going to different technology conferences. He believes that it is important to learn more about the field that he is working in, not only so he can perform his job better, but also to see what other companies in the industry are doing as well.

Since this role involves a high degree of working with people, Canny believes that one must have a love of helping others to thrive in a position like this. Canny also believes that there is not necessarily a personality type that is best suited for this type of work. Everyone is different, and it can be extremely beneficial for a recruitment team to have an array of different personalities. Some can be more high energy and work directly with students at events, and some can be more detail-oriented and work with the organizational aspect of recruiting. Canny mainly focuses on the behind the scenes side of things and ensures that many of the details in the recruitment process are fine-tuned and accurate.
In terms of future trends in HR, Canny notes that he sees the recruitment industry getting a lot more competitive as the world of work evolves. Since the field is filled with competition, it is important to recruit faster and provide a better experience for applicants. There are also many opportunities for advancement in the HR field; campus recruiters can find opportunities as senior recruiters or recruitment managers, or people can transition to other parts of HR with roles such as an HR business partner.

Canny's advice to Laurier students interested in HR is that it is important to be coachable and receptive to critical feedback conversations. It is important to acknowledge that you are not always going to do things perfectly, and that one should put their ego aside in a positive way so you can optimize your self-growth and learning. It is also beneficial to constantly be learning something new every day, even after your undergraduate studies are complete. To stay current in the tech industry, Canny takes a lot of online courses through LinkedIn Learning to gain insight into software development concepts and information security. On a lighter note, Canny believes it is also important to take a breather every now and then, and to take time to enjoy your career journey.