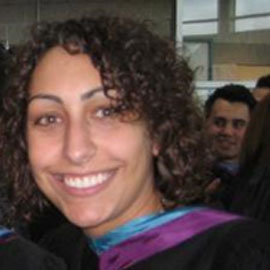 Executive Liability Underwriter (Business Administration, BBA)
Lauren Civello, Chartis Insurance Company of Canada
Lauren Civello graduated in 2010 from the business co-op program at Laurier, where she found her passion for underwriting. One of her co-op work terms was at AIG Commercial Insurance Company of Canada (now Chartis Insurance Company of Canada), where she now holds the title of executive liability underwriter. Lauren developed her interest through her specializations in Finance and Risk Management and Insurance while at Laurier. Taking classes in the field helped her to realize how much she liked underwriting, as well as providing her with some skills to apply to her job.
Working in the commercial field of underwriting, Lauren usually works long days, which consist of checking emails, talking to insurance brokers and researching companies. Commercial underwriters analyze a company, its industry and the potential risks that the company and its executives face. Based on this research, they make decisions as to whether or not the company would be a good risk for the insurance company and set a premium that they would have to pay in order to be insured. Lauren spends a lot of her day on the phone with insurance brokers negotiating prices and coverage for both potential and current clients. It is important to get the big picture of a client's situation in order to determine the likelihood of them making a large claim so as to minimize the insurance firm's exposure to financial risk. Balancing the need to manage risk through research-based decisions, while also pleasing brokers and clients, is the most demanding part of an insurance underwriter's job.
In the future, Lauren would like to attain her Chartered Insurance Professional (CIP) designation so as to increase her mobility within the company. This will allow her to further develop her skills and make the natural transition into a senior underwriting role, and eventually an underwriting manager. She also thinks she would like to specialize in products such as employment practices liability coverage, or passport coverage.
In general, underwriters can have many different positions within a company from assistant, senior and eventually management roles. Horizontally within these roles, an underwriter can make moves to specialize in the different types of insurance coverage offered by their employer. There are also a variety of different kinds of underwriters including commercial (business) and personal (insuring individuals). Within these roles there are various fields such as property and casualty, health and accident insurance, environmental and many other specialized areas.
Over the past few years, underwriting has become more complex, says Lauren. Previously, executive liability underwriting focused on securities class action lawsuit claims such as the insider trading cases similar to the Martha Stewart case. Since then, potential claims can arise from sexual harassment suits, pension fund mismanagement, and misrepresentation of financial statements – all situations that have become more frequent and thus require more insurance. These trends mean that more underwriters are needed, which is good for anyone looking to enter this career path.
To become an underwriter, an undergraduate degree in any field is a necessity, although a business or economics degree will teach skills such as interpreting financial statements which will be valuable. If entering the personal insurance line, the CIP designation is required, although it is also beneficial for those in the commercial division. For Lauren's position, a thorough understanding of a company's valuation is required. An underwriter needs to be able to analyze financial statements, understand the micro and macro economic factors that will impact the company and comprehend relevant securities laws. An underwriter needs to be able to interpret this information so as to prepare for any claims.
Due to the amount of negotiating underwriters do, being a people person is the most important quality you can have, according to Lauren. Analytical skills, strong communication skills, and taking initiative are also integral traits to success as an underwriter. A thirst for knowledge is key to overcome the ongoing changes in insurance policies, securities litigation, and competition so that underwriters can stay abreast within the current industry trends and write policies accordingly.
Salaries for underwriters generally start in the $50,000 to $60,000 range, but can increase considerably due to variable performance compensation metrics such as an underwriter's overall loss ration and in the future with changes in positions.
Lauren suggests getting a job that requires analytical skills, such as in an equity research position, to develop those skills in order to enter the underwriting field. Volunteering in any kind of investment clubs can also be beneficial, but Lauren says that doing anything that you have a strong passion for will benefit a person trying to get a job in insurance as it will help you develop your team working abilities and people skills. Insurance is a social industry – so becoming involved in networking or charity events hosted by insurance companies is a great way to enter into the industry and build relationships. Lastly, it is important to talk to both underwriters and brokers to learn about both sides of the industry and continuously gain education about the ever-changing nature of insurance.
Lauren is very excited to be an underwriter and says she truly enjoys going to work everyday. The constantly changing environment keeps her interested and consistently engaged as there are always opportunities for learning and professional development.