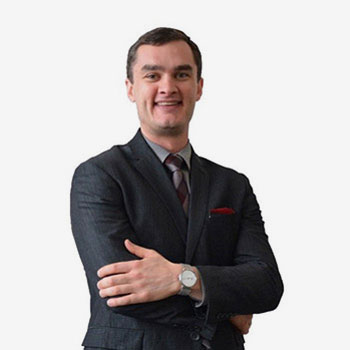 Personal Injury Lawyer (English and History, BA)
Bill Denstedt, Alam Law Office
By: Mehak Rana, Career Centre Peer

Bill Denstedt graduated from Wilfrid Laurier University with a Bachelor of Arts in English and History in 2012. He began law school at the University of Melbourne in Australia in 2013 after which he transferred to the University of Windsor's law program where he obtained his J.D. in 2016. Currently, Bill is an associate lawyer at an injury law firm known as Alam Law Office.

If you went to high school in Canada, you may remember your grade 10 civics and careers class. After completing a 500-question survey about different career options, Bill's top career suggestion was that of a lawyer, thus igniting his interest in a legal career. In grade 11, Bill enrolled in a law class where he had the opportunity to attend court and participate in a mock trial. As a Laurier student, Bill volunteered at a law firm in his hometown of Orangeville where he had the opportunity to accompany a lawyer to the courthouse and work on detailed legal briefings. After these experiences, Bill knew this was the career path for him.

Immediately upon graduation from his J.D., Bill went to work at Morrow Mediation as a Mediation Co-ordinator. Mediation is very closely related to the practice of law itself as it is commonly used as a technique to resolve legal disputes between parties before a trial. In this unique role, Bill was able to see both sides of civil litigation. His responsibilities included handling the administrative side of things such as scheduling and accounting, and also reviewing mediation briefs to summarize the position of the parties. Further, Bill also participated in a case study in which he analyzed his principal's mediations for an entire year and then presented the findings to the Ontario Bar Association. After working in this position for approximately 9 months, Bill accepted a position at Alam Law Office as an articling student, followed by a promotion to Associate Lawyer after his call to the Ontario bar in January 2018.

Bill's role entails working on client files, meeting with clients or attending court. He often reviews files to report on the legal issues and challenges the firm may experience in pursuing the claim. Bill also regularly attends the Ontario Superior Court for motions and Examination for Discovery on behalf of his clients. He appreciates the respect given to lawyers, both within and outside of the office. Likewise, Bill states that the legal field is a very tight-knit community, especially among the insurance litigation field as you usually deal with the same lawyers, thereby establishing close relationships.

One of the challenges of being a lawyer is that there are constantly deadlines to meet, which can result in long work hours and pressure. Bill noted that being a good leader can also be somewhat challenging as being in a position of authority with younger associates requires maintaining a balance between being a firm, yet fun leader. Another challenge Bill faces, similar to most other lawyers, is having to deal with different types of individuals, especially difficult clients. Specifically working in the injury law industry can sometimes be difficult to repeatedly hear sad stories about people's medical conditions. For example, before an Examination for Discovery, Bill is required to speak to his clients about their past and present medical history to prepare them and this often involves discussing sensitive issues.

A similar, yet less educational heavy occupation is the paralegal profession. In order to become a paralegal, students usually enrol in a paralegal program at a college. Upon completion of this program, students then take the Paralegal Licensing Exam to receive accreditation by the Law Society of Upper Canada. Some common job titles include paralegal, legal assistant, court monitor, small claims court agent, and provincial offense prosecutor.

In order to become a practicing lawyer in Ontario you must complete law school following an undergraduate degree, then write the Bar examination. After successfully passing this exam, you are required to complete approximately 10 months of articling as a student at law. After articling, young lawyers are most likely to find a full-time position at a law firm. However, there are several different types of environments in which a lawyer might work. Some of these include public health, government, in-house corporations, major business companies, sports companies, or being self-employed.

Bill advises aspiring lawyers to maintain high grades, begin studying for the LSAT early on, and to start making connections with people in the legal field. He states that it is of paramount importance to remain organized, calm and positive, as the workload can get unmanageable at times – both in law school and in the work field. Finally, he advises students to remain strong, as this profession and the path to it entails both wins and losses.