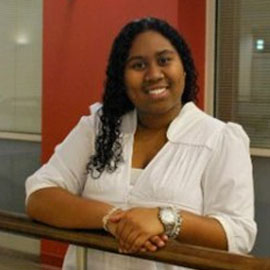 Account Executive (Business Administration, BBA)
Amaryllis Jones, Procter & Gamble
After graduating in 2014 with a Bachelor of Business Administration degree, Amaryllis Jones launched her career in sales very quickly by accepting an account executive position with Proctor & Gamble in the Toronto office. Using the Laurier Graduating Student Employment Service, Amaryllis was able to find this position and with the help of the interview coaching and mock interview services, was well-prepared to successfully be chosen for her job! Initially, Amaryllis always envisioned herself in a career in marketing tied to her specialization of brand communications. After taking a sales class during her fourth year, Amaryllis learned that sales was something she was good at and felt it would be a rewarding career pursuit. She learned what it meant to sell and realized that we are often selling something everyday (with our parents about why we stay out late, with professors about a deadline extension and so on). Careers in sales are more dynamic than students perceive it to be, as it goes beyond door-to-door appeals and cold calling. Sales is a function that involves negotiation tactics, persuasion, innovative thinking and cross-functional responsibilities. Careers in sales are vast and can lead to many different opportunities.
Within Amaryllis' account executive position, she manages home care and battery brands for Shoppers Drug Mart across Canada. Amaryllis' role is to ensure that the customer's needs are met and that the brands and products being represented fit the retail landscape for all Shoppers stores. Within this role, Amaryllis makes recommendations for flyer features for different brands and works closely with buyers to collaborate on marketing initiatives to drive sales in a saturated market. Each week, Amaryllis is involved in many meetings that range from discussing merchandise planning, strategic revenue collaborations or how to better invest money that will grow business. Planning product launches, rebranding and organizing media programs to ensure that Shoppers has the latest products on the shelves is also a main focus. Amaryllis notes that many undergraduate students believe that sales and marketing careers don't involve financials, but in reality, they do. Budgeting and financial planning are integral facets of her role and Amaryllis recalls having to work hard in the beginning of her career to master the financial basis for her projects.
Amaryllis notes that when she first began her position, she was given a desk, a brand category and was told to go out, grow the category and further develop the brand and buyer relationships. Working in consumer packaged goods is so fast-paced and constantly changing, thus making her job in sales always fresh and exciting! Consumer demand trends are always in a state of flux, which brings an exciting dynamic to sales that requires you to stay on top of your game.
There are also many important skills, interests and attitudes that would benefit someone wanting to pursue an account executive position. Amaryllis notes that strong interpersonal and financial skills are integral to a career in sales. Flexibility, adaptability and the ability to be decisive are also assets as the industry moves so fast and you can lose an opportunity to another brand or vendor if you wait too long to make a proposal or act on an opportunity. Amaryllis identifies having a positive attitude in the face of challenges, keeping a high level of professionalism and being determined are all necessary assets to thriving in a sales career.
To begin a career in sales, having an undergraduate degree is your first step. You do not necessarily have to have a degree in business to launch a sales career as any discipline could serve as a stepping stone. However, fostering relevant volunteer and work experience is helpful. If you are able to join the Laurier Sales Association and become involved in leadership and public speaking clubs, these experiences will help propel your job prospects in the sales industry. More and more people are becoming intrigued by sales and companies themselves are looking to break down the barriers about the stereotypical sales job. For students who are serious about honing their knowledge and skills in the sales world, Amaryllis suggests justsell.com, a resource that provides different sales strategies, tools and tips to research and learn from.
One final note of advice Amaryllis offers is that there is lots of room to grow in the sales industry. Entry level sales can lead you to opportunities in marketing, sales management, or becoming a sales director. It is also wise to reflect on what companies are providing a product or service you are passionate about, as the interest in selling for the company will come more naturally to you. Amaryllis also points out that instead of looking at the specific segment of business, look at what skill set a job is requiring and what functional duties are involved to know if that career is something you actually want to pursue! Students often limit themselves to their specific specialization or a specific segment and wind up being surprised at their role and duties. Rather than limiting your opportunities, it is important to investigate the actual positions within a business function and target those positions that maximize your skills and strengths.