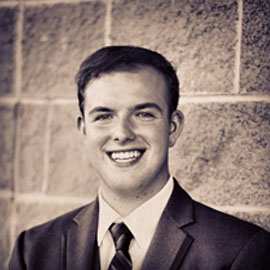 Associate Brand Manager (Business Administration, BBA)
Nick Skotidas, Anheuser-Busch InBev
Nick Skotidas graduated in 2010 with an Honours Bachelor of Business Administration with a specialization in marketing. As a former student of the co-op program, Nick was able to secure marketing, recruitment and project management placements at companies such as Scotiabank and BlackBerry. Two of Nick's co-op roles at Blackberry were in campus recruitment and as a project coordinator within the HR Project Management Office. Although Nick concentrated his studies in marketing, he was also attracted to HR roles as he liked the idea of connecting with prospective candidates and developing employer brands on postsecondary campuses. These experiences led Nick to his first position post-graduation in human resources as a campus programs specialist at Canadian Tire. It just goes to show that while you may concentrate in one area of business, developing diverse experiences can help expand your career options!
Through Nick's experience in recruitment at Canadian Tire he had the opportunity to work with many hiring managers in marketing, which provided him great insight into what marketing was all about. Within his HR capacity, Nick was marketing and promoting the Canadian Tire brand as an employer of choice but he was now ready to take on the challenge of strengthening the Canadian Tire brand from a consumer-focused standpoint. He secured a marketing event specialist role which allowed him to see firsthand how multiple functions with the marketing department work together to create an integrated 360 degree marketing campaign. Nick had the chance to lead cross-functional teams in campaign development and activations.
With a strong commitment to furthering his skills and opportunities, Nick began to conduct research in the field of brand management and was attracted to the opportunity to really drive business results and be accountable for the financial health of a brand. Through some strategic networking, Nick secured a role within the brand team at Tim Horton's. Nick describes his time as an associate brand manager with Tim Horton's as a wonderful opportunity to further his analytical skills as he was responsible for analyzing sales reports and developing recommendations based on insights for senior leadership. He was also responsible for building the annual brand plan for Cold Beverages at Tim's. Before he knew it, Nick was being head-hunted to join the Anheuser-Busch InBev team as an associate brand manager where he now loves working on a global brand that has such a strong connection with Canadians and people around the world.
As an associate brand manager, Nick finds that no one day is ever the same. It's one of the many reasons why he enjoys his work so much. In laymen's terms, brand management essentially allows you to run a business. The business is the brand and while you are primarily responsible for managing the marketing aspects of it, you may also be found working with a variety of departments such as finance, product development or human resources to determine how the brand is doing as a whole. This role involves a significant amount of analysis in order to determine how Budweiser's sales and market share are performing in addition to what's driving those sales. Nick can also be found creating briefs and working with advertising agencies to develop marketing campaigns. He really enjoys having the opportunity to utilize both his creative and analytical sides. Since he is often working with numerous people, excellent communication skills is an absolute must for a role of this nature. Exhibiting good relationship skills is necessary when working with such a diverse group of people from varying departments.
One of the most frustrating parts of brand management can be the inability to do everything you would like to do. In the end, it all comes down to the amount of resources available. You may have a great idea, but if you do not have the financial means or human capital to get the ball rolling, it can often lead to scratching the whole idea. One important matter to note is that while a career path of this nature can be very rewarding, it will require a great deal of your time and energy. This is not your typical nine to five job. Hours vary based on projects and it is not unusual to start your day very early and end late into the evening.
For students interested in pursuing a career in brand management, Nick recommends finding hands-on marketing experience. This can be attained in a variety of ways ranging from extracurricular activities, co-op placements or summer internships. Nick recommends students find outlets during their time at university where they can strengthen their analytical, project management and communication skills. When asked what he wishes he had learned more about during his time in school, he answered "research skills." In a role such as Brand Management, there is a lot of research that must be done and it is important that you understand how to go through large amounts of data to find the most important information. It's one thing to conduct research, but you enter a whole other playing field when determining what to do with all of your research. "There are so many methodologies of research and types of data that you can collect, so knowing when to use which ones to gain insight into your objectives has been a learning experience. It's so important to ask the right questions and truly know what you're objectives are when determining your method of research. What you determine from your research are consumer insights, which then lead to break-through marketing ideas/campaigns."
For students considering a role in brand management, you will want to ask yourself whether you deal well with ambiguity as every day is different and there is often no clear cut process to follow. "Having a positive and approachable leadership style is also essential as you are the lead from a brand standpoint and will be working with multiple teams and agency partners to accomplish a goal and you need to be able to inspire them and motivate them to work together."