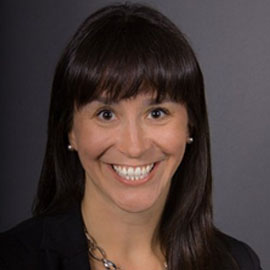 Director of Integrated Marketing (Sport) (Kinesiology, BA)
Nicole Lee, National Hockey League (NHL)
Laurier alumni Nicole Lee is a prime example of how a strong educational background, extensive volunteer experience and a passion for sports can lead to success. Furthermore, she is an excellent example of how you can find a career that matches your interests; it just takes a lot of determination during the process. Nicole graduated from Laurier in May of 2002 with a Bachelor of Arts degree in kinesiology and physical education, with the business administration option. Upon graduation, Nicole attended Ohio University where she received her Masters of Business Administration in winter 2004 and her Masters of Sports Administration in spring of 2005. Despite Nicole's incredible accomplishments, it was not until her fourth and final year at Laurier when she established her future academic objectives and career aspirations within the sports administration industry.
Currently Nicole is the director of integrated marketing for the National Hockey League (NHL) and she describes her job as something special and a lot of fun. She gets to work for Canada's game, the best game in the world on a daily basis, combining her passion for sports with her love for marketing. Something she likes most about her job is that it is always different but has the same goal – using everyone's favourite game to drive business. Nicole is in charge of managing a myriad of sponsorship accounts, so she gets to work in many industries such as beer, tires and chocolate. There is no typical day or week as Nicole is constantly working with league partners to create new campaigns and evaluate old ones. Nicole simultaneously works in four to five different industries, events and markets. The highlight of her career was working on the World Cup of Hockey, which they started getting ready for eight months in advance.
The most difficult aspect of a career like Nicole's is that you work long hours and can work many days in a row without a break. She remembers working 17 days in a row during the course of the World Cup of Hockey. It is also hard to find a good work/life balance as it is easy to get caught up in the work she does and the excitement of her job. March to May are considered to be the slower times in the industry even though there are still many things going on, including the Stanley Cup Playoffs. Another difficult aspect of this type of career is that it is extremely competitive so you are bound to face rejection at some point. Having had faced rejection in the past, Nicole emphasizes that the best way to deal with it is to take it, learn from it and move on. Nicole recalls overcoming the most rejection during her time in the U.S. upon graduating from Ohio University. This resulted in her accepting another low paying internship in alliance development (sponsorship sales) for The Walt Disney Company before finding a full-time position, six months later, with Anheuser-Busch in Williamsburg, VA.
Nicole stresses that to do well in this line of work you naturally should have an interest in and love for sports. You need to have strong people skills as you are constantly working with external partners, internal departments and multiple personalities along the way. Furthermore, it is helpful to be competitive and solution oriented – the goal is always to propose an alternate solution if partner requests cannot be approved. Nicole furthers her education in the field by constantly reviewing industry news and volunteers as a member of the Sponsorship Marketing Council of Canada (SMCC) Marketing Committee. Nicole believes technology and innovation will play a key role in the future of this industry, which has already be seen with Rogers and Virtual Reality.
If you are interested in a career such as Nicole's, it is very crucial to volunteer or work as an unpaid intern with large scale events and marketing companies. This helps to provide the necessary experience to begin a job in such a competitive field. Since there are a very limited number of opportunities in Canada within the sports industry, coupled with the very specialized requirements, it is important to gain these experiences early. Nicole began getting involved as a student at Laurier, which is where she made many good decisions that have helped her in her professional life. Through getting involved on campus as a residence life don, marketing events assistant within the athletic department and president of Kin Kouncil (kinesiology student group), Nicole was able to develop her leadership, time management and people skills that have contributed to the person she is today.
Previously, Nicole worked as a sales and marketing manager for the Michelob ULTRA Open where she saw many similarities and differences to her current role. Both jobs are sports (golf vs hockey) and sponsorship based. They are both about maximizing business partnerships and working with partners to help them make the most out of their contracts. In her previous role with the Michelob ULTRA Open, Nicole's focus was on both sales and managing partnerships, whereas now her primary focus in on managing partners and presenting sales opportunities within the league when they arise. With the NHL, she deals less with fostering new business and focuses more on expanding commitments from existing partners to generate incremental League revenue.
Nicole stresses three key words when providing advice for those considering a sports administration career path: patience, persistence and passion. In such a competitive industry, patience is essential as getting your foot in the door can be a challenging and timely effort. This is why she stresses the importance of gaining suitable experience through volunteering and unpaid internships. You need to be persistent in your motivation and drive to get in this industry; you will face rejection and have to fight for your chance – but in the end it will be worth it. Finally, you need to be passionate for the industry and the sport as there will be long hours and the potential of relocation. Aside from these three words, Nicole emphasizes that stress is inevitable but by having fun and loving your work it will certainly help to mitigate the pressure.