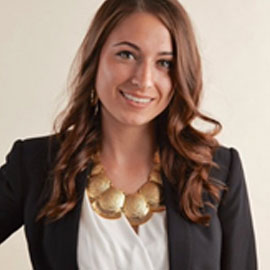 Online Marketer, CEO/Co-Founder (Biology and Chemistry, BSc)
Jessica Chalk, TrafficSoda
Most business owners and managers understand the importance of the Internet as a means for growth. The problem is that they don't understand how to find, connect and convert customers online, or they don't have time to do it. The 'if we build it, they will come' mentality doesn't work online and business owners are realizing that building a beautiful website doesn't get them a return on investment, online marketing does. Whether going global or dominating a local market, getting in front of your customers is one of the biggest keys to success.
Luckily for them Jessica Chalk's startup, TrafficSoda, has a solution for all major online customer acquisition problems. In short, TrafficSoda uses proprietary technology with some unique marketing strategies to understand a business industry online and connect them with their target market. The ultimate goal is to drive more targeted visitors to a website, and fill their top-of-the-funnel with qualified leads.
Jessica Chalk graduated from Laurier in 2011 with a BBA in international business. During her undergraduate studies, Jessica contemplated being a lawyer specializing in human rights as well as careers that would enable her to support some philanthropic pursuits. Jessica volunteered at the legal resource centre and also worked at several start-up organizations including a company focused on Bluetooth marketing technology and another one that provided digital security solutions. While working in the digital security firm Jessica wore many hats, from human resources to marketing, public relations and sales. This is where she discovered that she enjoyed Internet marketing. Shortly after this experience, Jessica Chalk founded TrafficSoda along with her co-founder Rob Farnham. Jessica met Rob through the Accelerator Centre where he helped drive online sales for a company. Rob's strategy, skills and knowledge were producing unbelievable results for the company but the tedium and inefficiencies inherent in the tools he used restricted how many companies he could help. That's when Jessica approached him with an idea to build technology and systems using his strategies to help more businesses grow.
A prevalent theme in Jessica's career is her eagerness to learn. Being a part of the technology community at the Accelerator Centre, Laurier LaunchPad and Communitech provided TrafficSoda with the support they needed to get their business off the ground.
As Jessica's company is in the growth phase, her typical day involves connecting with clients, getting new customers and managing growth/financials. As the company starts to expand and bring on key team members, Jessica's next challenge will be to support that team, guide the vision and surround them with everything required to thrive. At the same time, she's also integrating a new product into the marketplace. As new marketing channels and mediums are always popping up, the company must ensure they remain leading-edge at all times.
Jessica really enjoys the entrepreneurial perspective and seeing the impact TrafficSoda has. "Accountability, credibility, honesty and transparency are hard to find in this market and we want to bring that back. We love seeing a business thrive because of something we did for them online. We love hearing their stories when they have so much business coming in they don't know what to do. We love seeing their faces when they outrank the Goliath in their industry (when they started off as David)."
Jessica notes that businesses, more than ever before, have the ability to reach a global audience through the strategic use of Internet marketing. "If globalization is at our finger tips, why don't more businesses think bigger? Whether it is the lack of understanding of the power of the internet or the inability to know how to properly leverage the opportunities, those who don't have a strong online presence are leaving massive amounts of money on the table for their competitors to pick up. Internet marketers thrive in this competitive environment. It's such an amazing feeling seeing your customer dominate their market online."
Jessica's advice to anyone wanting to get into online marketing would be, "to get started!" The barriers to entry in the business are very low including both capital and learning. To get a head start Jessica suggests becoming familiar with the basic concepts of SEO, social media marketing, video marketing, paid marketing, data analysis, html and web development. There isn't one particular degree that is necessary to get into online marketing. Any degree that gives you a technical perspective or understanding of basic consumer behaviour would suffice. The most important element to succeed in the industry is to develop an entrepreneurial perspective, know how to sift through misinformation (there's a lot of it!) and be willing to take the ride with its ups and downs. To be a great digital marketer, you should be: creative, analytical, competitive and love problem solving. You also have to love learning since the industry is constantly moving and evolving. Hubspot and Moz are great publications to learn more about online marketing.
Currently online marketing is a hot business to be in. Marketers will find that the next few years require a deep understanding of the ways in which consumers interact with online environments. A key to success is understanding what the buyers purchase decision-making process is like in each industry. How you serve content to a target audience, what content you serve and when, depends entirely at what point they are at in their decision-making. Serving them research-focused information at an exploration phase increases the likelihood they will trust you and see you as the expert brand in the industry. Serving conversion focused 'how to buy' information at a point-of-purchase moment will be the next key to getting that customer to hit the 'buy now' button, rather than leave your page to go find an easier way to buy.
"Micro-targeting, non-invasive advertising, content, video and omni-channel strategies will be the key to success. If you want to be a part of a rapidly growing field with entrepreneurial opportunities, online marketing may be for you."