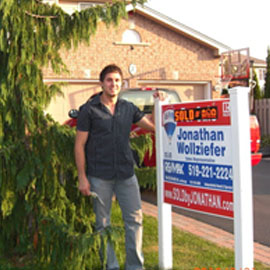 Real Estate Agent (Geography, BA)
Jonathan Wollziefer
After graduating from Laurier in 2009 with an honours degree in geography and a minor in English, there was no question in Jonathan Wollziefer's mind that he would be pursuing a career in real estate. He described the process of achieving his goal as quite complex and challenging. Jonathan had to go through the Ontario Real Estate Association (also known as OREA) and complete three courses as well as a period of articling. After becoming a certified real estate salesperson, every few years he has to complete courses in order to stay up to date with his certification.
In a day's work, Jonathan has to constantly be checking listings and informing people of the possible new openings. He has to maintain contact with all his clients and keep them well informed. If one of his clients shows an interest in a home, he is quick to make an appointment to show the house. On Sundays, Jonathan will often be found holding an open house with one of his clients.
In order to be a successful Real Estate Agent, Jonathan stated that you have to be extremely sociable as a lot of emotions arise during the purchasing of a new home. He pointed out that a home is most likely the largest purchase a person will ever make, so it ends up becoming a very personal process. He also noted that one should be extremely "thick-skinned" as it is a very competitive industry. Agents are constantly competing to be the best possible agent and the industry can be known for being "cut-throat."
Jonathan was able to pin point quite a few challenges he comes across in his daily work. For instance, it can be difficult finding clients as each agent is competing for the same client's attention. Another challenge Jonathan comes across has to do with the negative things that are often portrayed regarding the Real Estate Industry in media. He stated that, "media has a bad reputation for stating false things about how the market is down, when in reality it's not as bad as they make it seem." He also pointed out how the media made such a huge deal about the HST tax and its impact on home buying, where in fact he feels it had little impact on buying a resale home. Clients often come to him with certain mindsets about what the industry is like and he has to smooth things over by educating them about the reality of the situation.
Although there are many challenges that come with the job, Jonathan is extremely happy in his role for a variety of reasons. One of the most positive aspects he finds is the freedom to be his 'own boss.' He decides when he works and for how long. However, with this freedom also comes a lot of discipline in order to stay productive. He stated that if you end up with little to no work, then it is your own fault as you are the only one to blame. He also noted the commission-based salary can be stressful and often a big reason that turns people away from a real estate career. However, this type of salary is exactly what keeps Jonathan motivated as in order to keep business going, one must work hard to close deals and complete transactions.