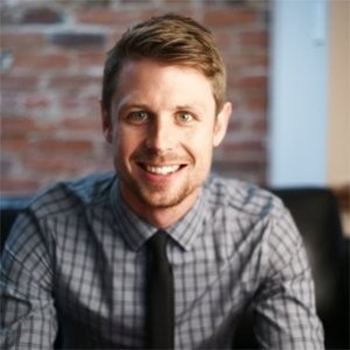 Manager of Global Program Partnerships (Political Science, BA)
Colin Kibjis, Right to Play
By: Riley McPhail, Outreach and Support Peer
Colin Kibjis graduated with a Bachelor of Arts Political Science degree from Laurier in 2008. Afterwards, Colin completed a post-graduate program in International Development at Humber College. During his time at Humber, he began volunteering with Right To Play a few days a week. His volunteer commitment would eventually lead to full-time employment with the same organization.

Following completion of his post-graduate program, Colin took an internship in Africa where he supported a Kenya-based organization that focused on improving the basic health services of Ugandan communities. This role allowed Colin to develop skills in proposal writing and donor reporting, as well as insight into the operational realities, challenges and complexities of implementing development projects. After working in Uganda for 7 months, Colin travelled back to Toronto where he leveraged the network he had built at Right To Play to gain a full-time position.

Colin began as Finance and Administrative Co-ordinator where he tracked project expenditures, worked with the finance team and wrote grant applications to generate funding for Right To Play programs in Canada. Colin has since shifted to a role related to partner development and relationship management. He spends his busy work days securing funding from institutional donors looking to support programs, co-ordinating global fundraising efforts, working directly with donors to initiate programs, lead proposals and ensuring compliance on agreements with donors. The not-for-profit industry has a high level of competition when looking to secure funding largely due to the increased number of organizations in the space, as well as the growth of for-profit social enterprises. This makes Colin's job challenging as he has to work that much harder to compete for grants to fund Right To Play's programming.

Right To Play has expanded its operation to engage and partner with Indigenous communities across Canada. In Colin's first role with RTP, he helped to secure funding for programs from large banks and mining companies that are active in the North and want to give back to communities. His industry is also seeing technology play a larger factor in overcoming challenges in offices and in the field. For example, donors are encouraging non-profits and social enterprises alike to develop innovative technical solutions to challenges. The use of technology looks different across sectors (i.e., health, education, human rights, etc.), but, for example, teachers are being provided with tablets as a teaching aid to where training opportunities are limited or there is a shortage of classroom materials.

Colin's position requires an analytical skillset so that he can effectively identify the right funding opportunities and assess the likelihood of success of new proposals. Relationship building is also important as Colin spends a significant amount of time working alongside colleagues from around the world. Therefore, inter-cultural communication is of paramount importance to ensure effective program implementation and management.

Colin has great interest and care for the issues Right To Play works to resolve, such as gender equality, equal access to education as well as child rights and protection. Colin has seen first-hand exactly what the funding he secures is going towards and how great an impact Right To Play programming truly makes. To put this in perspective, the organization is currently present in 15 countries, including Canada, as well as countries in Asia, Africa and the Middle East. Most people working in the industry have a wealth of international field experience.

Right To Play helps more than two million kids play every week and Colin greatly appreciates the opportunities he has had to travel to see the programs in full swing. Although only a few times a year, his travel to worldwide projects allows him to put faces to the names he has emailed or talked to over the phone, which makes his work all the more worthwhile. Training for work and experience like Colin's is best gained while working directly in the field. International exposure working with an NGO would be a worthwhile pursuit for students interested in pursuing this line of work.

Colin recommends networking outside and within your organization because showing interest in other opportunities will allow you to try new things and experience more. He recommends that you build a network by strategically meeting new people in your areas of interest and focus as much as possible on building your experience so you can experiment with a variety of roles and industries. Colin has learned that career paths are not linear anymore and often individuals study one thing, yet work in very different fields. Colin notes that it's important to not limit yourself, never stop learning and always be curious.