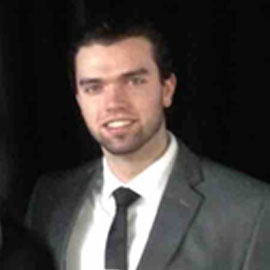 Logistics Analyst (Business Administration, BBA)
Jace Felton, NGL Supply Co. Ltd.
Graduating from Laurier with an Honours BBA degree, Jace Felton specialized in finance and minored in economics and insurance and risk management. In the summer months during his university studies, Jace had the opportunity to work with his father at his company Enbridge Pipelines providing ROW Prevention Services (safe digging to avoid damage to pipelines). This position taught him valuable team work skills and insight into the importance of a collaborative team environment. Jace had the opportunity to volunteer as an orientation leader (IceBreaker) and also volunteered with miscellaneous events in his hometown. These experiences allowed Jace to gain and develop a different set of skills such as responsibility, leadership, as well as presentation skills. When considering careers, Jace researched many careers in the financial/accounting industry as his specialization was in finance. However, closer to graduation Jace came to the realization that money management was more of a personal hobby and he had begun to take a greater interest in other fields of business as he couldn't see himself pursuing finance as a career. After many job interviews, he received an offer from NGL Supply Co. Ltd. as a logistics analyst. Jace felt the job offered the best learning experience, opportunity for growth within the business, along with a competitive salary.
Jace's current role prefers individuals with a bachelor degree in business but also engineering could be considered due to the nature of the industry. Courses in operations are definitely important and particularly for this role, learning the energy and oil business along with the rail industry are great assets. Jace finds that 90% of the learning is on the job day-to-day. Being a new entrant into the workforce, much of his mentorship comes from the current VP of logistics at the company. He has been with the company for about 16 years and Jace continues to learn a lot from his mentor's knowledge. In this line of work and industry, Jace loves that everyday can bring something different. Along with everyday being fast-paced, he is able to have the feeling of being a vital part of the organization.
A typical day as a logistics analyst begins with straightening out anything that has taken place overnight, which ranges from answering emails to collecting and inputting BOLs (bills of lading). There are daily meetings to attend where the team goes over the weekly plan and ensures that the team is in the same area and working towards what is trying to be achieved. For example, a recent project involved fleets of railcars that needed to fit industry standards. Jace had to track data on a spreadsheet and ensure all cars were able to make it to a location where safety requirements can be met and up to date to pass FRA inspections. Some challenges on the job include contracts not being met and dealing with unhappy customers. Some of these are out of your control, but customers sometimes do not see the other side of things.
The most important skill for this position is being able to get along easily with the people you work with. Having strong people skills is crucial as this role entails having a team oriented mentality. The success of this company is strongly impacted by the fact that they all constantly work together. Interest and attitude should revolve around yearning for more work and opportunities to learn. There is a lot to learn in the Oil and Energy business, and 'work more and learn more' defines Jace and his success in the industry. Jace finds that the best type of personality to have is to be outgoing, but more importantly, easygoing. Being open to ideas of others and feeding off each other's viewpoints is very beneficial. Being new to the industry, Jace frequently listens to everyone's ideas and takes in all the knowledge from all colleagues before making decisions or acting.
In terms of getting to where Jace is now, the best training route involves obtaining a business degree and additional operations/logistics courses are beneficial. There are many opportunities in logistics and operations within diverse industries including food/grain and retail to name a few. However, the role will vary from industry to industry. The ability for a logistics analyst to change industries is quite easy. It is seen that the trucking industry may have a bit of a learning curve but still could easily be adapted.
Logistics occupations are becoming increasingly important. It is all about the efficiency and cost effectiveness on how to get the product from the supplier to the consumer and that is huge in establishing positive customer relationships. Successful companies are those that build better customer relationships. In the future, there is potential for more automation jobs due to the advancement in technology. It is for certain however, that a computer can never replace the value of customer relationships.
When asked about advice for students, Jace indicated that networking events are advantageous, "Push through the five minutes of feeling embarrassed and introduce yourself. It can lead to so many possibilities." He says that it may sound cliché, but just be yourself and be honest. People in the industry really appreciate the 'real you' more than being fabricated and over professionalizing things. Additionally, he says, "During school, don't worry so much! Enjoy the moment and enjoy being there because as everyone says, it goes by in a blink of an eye. Work hard, but have just as much fun. Get involved in anything you possibly can – the friendships you make from being involved can last a lifetime!"