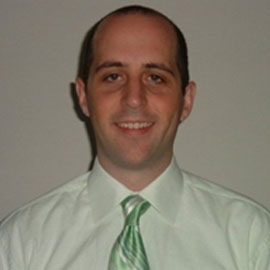 Senior Risk Assessment Specialist (Biology, BSc)
Joel Nichols, MTE Consultants Inc.
Joel Nichols currently works at MTE Consultants Inc. as a senior risk assessment specialist. MTE Consultants Inc. is a company based out of Southern Ontario that provides services in civil and structural engineering, land surveying, environmental science and toxicology.
Joel graduated from Laurier in 2000 with a Bachelor of Science degree in biology. He began his undergraduate career in the business program, but after his first year his interest in science encouraged him to transfer into the biology program. While studying at Laurier, Joel became very intrigued by the environmental science and conservation aspects related to biology. His work in research labs and his thesis in metal bioavailability inspired him to pursue a Master of Science degree from the University of Waterloo in Aquatic Toxicology.
Joel first began his career at GlobalTox, now a division of MTE, as an aquatic toxicologist. In this position he engaged in many technical tasks such as preparing risk assessments and environmental health reports, conducting aquatic toxicology studies and working in the field completing sample collection and biological surveys. Some projects Joel participated in ranged from completing a benthic community assessment and water quality sampling to support ecological risk assessment, to preparing a comprehensive human health report related to indoor air.
In Joel's current position, he acts as project manager and/or technical lead for the completion of human health and ecological risk assessments and toxicological studies, and conducts peer reviews of aquatic studies and risk assessments. He manages projects often related to contaminated sites while working with colleagues with varying degrees of scientific background. He also acts as a Senior Reviewer for quality assurance and control, and ensuring technical excellence on various types of deliverables. Due to his expertise in aquatic toxicology, he also continues to perform work in the field.
Joel appreciates the great deal of variety that this field offers. Every site or assignment is unique and requires different tactics to meet project objectives. He also enjoys having the opportunity to work with people from differing backgrounds, whether they are engineers, statisticians or experts in human health or environmental toxicology. Working in such a diverse environment allows one to be constantly learning, not just about the science of the job, but also the business aspects of the industry. One challenge that Joel experiences within his role is keeping up to date with the ever-expanding scientific field. Conferences, workshops and short courses are frequently available and useful for staying attuned with industry practice and emerging science.
To pursue a career in risk assessment and aquatic toxicology, Joel suggests an undergraduate degree in the sciences. He also encourages students to get involved in research projects that interest them early on. By working closely with professors during his undergraduate degree, Joel was able to hone strong research knowledge and skills, and establish a professional relationship with faculty supervisors. Graduate studies in a field related to environmental toxicology are also beneficial. Co-operative education options (i.e. work-study programs) offered through undergraduate studies also provide useful practical experience sought by potential employers.
The variety of skills and roles inherent in this career path makes it optimal for both introverts and extroverts, however, teamwork and interpersonal skills are always required. Since continuing education is a large part of positions in this field, Joel suggests attending workshops (e.g. Canadian Ecotoxicity Workshop) and conferences (e.g. Society of Environmental Toxicology and Chemistry and Canadian Brownfields Network) to learn from other experts in the field and to stay abreast of the type of work being done locally and worldwide. Networking opportunities available at these types of meetings are also useful for job searching and career advancement.
If you are interested in learning more about the dynamic field of risk assessment and aquatic toxicology, Joel suggests familiarizing yourself with these resources: