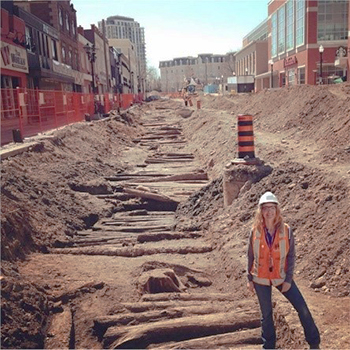 Senior Environmental Planner (Biology and Physical Geography, BSc)
Gilian Opolko, AECOM
By: Karlee Frederick, Outreach and Support Peer

Gilian Opolko graduated from Wilfrid Laurier University in 2010 from a joint Biology and Physical Geography program. After the completion of her undergraduate degree, Gilian decided to work towards a masters degree in environmental science. During her graduate training, Gilian discovered that her peers' sibling was Vice-President of Operations at a construction company that needed environmental co-ordinators for the Waterloo Light Rail Transit (LRT) project. A recommendation from her peer, along with her application resulted in her successfully landing the role. Within this position Gilian interacted with environmental consultants from an engineering firm called AECOM, which eventually led her to her current position as a Senior Environmental Planner.

As an Environmental Planner, Gilian works on a variety of projects encompassing the development of land while balancing potential environmental impacts. Her typical day varies depending on the project she is co-ordinating. Some common activities involved in her position include:

• Reviewing and summarizing historical environmental data;
• Developing proposal narratives;
• Co-ordinating with specialists to develop environmental plans and permit application packages;
• Conducting regular environmental monitoring inspections;
• Collecting environmental field data;
• Representing the environmental department at inter-disciplinary meetings; and,
• Completing monthly environmental reports.

Gilian also has the opportunity to co-ordinate and lead meetings with environmental regulatory agencies and to work with the various project disciplines to manage environmental budgets, evaluate environmental claims and to contribute to estimates on future bids. The variety of tasks in her career ensures that her days are stimulating and enjoyable.

Gilian's favourite aspect of her career is the constant opportunity for professional growth. Her position allows her to work alongside a number of different environmental specialists, engineers, technicians, project managers, government agencies and field personnel. She enjoys being able to see each project progress from design and planning to execution and handover. Gilian has enjoyed being part of exciting infrastructure projects so close to home such as the Waterloo Light Rail Transit Project and the Gordie Howe International Bridge Project. Gilian advises that being involved with such large projects can be challenging and demand long work hours, especially when juggling other projects. However, her passion for learning and seeing the impacts of her work makes it worthwhile.

In order to get into the environmental planning field, it is necessary to have a university undergraduate degree. A degree in Environmental Planning, Environmental Science, Geography, Natural Resource Management, Urban Planning or similar is preferred. When conducting her job search, Gilian noticed that many companies were looking for environmental engineers, but she suggests that it might not be necessary to have an engineering degree to obtain an entry-level position. There are also many postgraduate programs at colleges that focus on the practical aspects of environmental engineering that can help you jumpstart a consulting or engineering career.

According to Gilian, time management is one of the most important skills required for an environmental planning role. Recognizing when you need help is a major part of ensuring that a task does not become too overwhelming. Maintaining a high level of professionalism at all times is essential. Excellent communication skills and technical aptitude are also critical. Although she is not an engineer, Gilian considers her ability to understand engineering reports and design drawings to be of great benefit.

Gilian cannot speak more highly of the mentors that guided her through her academic and professional career. At Laurier, Dr. Michael English was Gilian's thesis advisor during her graduate studies. He is remembered by Gilian as being one of the most inspiring and encouraging professors that she has ever had. Gilian attributes much of her professional success to her experience in the Department of Geography and Environmental Studies under Dr. English's supervision. Gilian also visited the Career Development Centre at Laurier for insights on potential career paths that may interest her when she was feeling uncertain about where she wanted to go with her degree. Gilian's first manager at AECOM was also instrumental in teaching her about the field and focusing on her potential.

The trends in environmental planning are forward-looking. Due to progressive development, especially in southwestern Ontario, Gilian believes that environmental planners will continue to be in demand in the future. As environmental planners are needed for a wide range of projects (e.g., transportation and government funded assignments), they are not limited to one type of development. What lies ahead for engineering and consulting firms is the congruence of multiple departments into one firm versus having projects handed from one company for construction and another for consultation. Gilian believes that companies may be striving to offer all of these services together within a single organization to streamline the process.

Gilian's notes that it may be challenging to acquire your first position after graduating and notes that it's important to focus on networking. She stresses the importance of going to events related to your field to gain knowledge and to share your passion with representatives that may put in a good word for you one day. Gilian found informational interviews to be valuable for developing interview skills and to learn about potential roles in the field. Interestingly, she conducted informational interviews with personnel from AECOM before she started working there and now works alongside one of those contacts. Networking most definitely plants the seeds for career success.