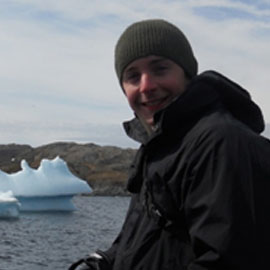 Wildlife Researcher (Biology, BA)
Graham Duggan, Wild Canadian Year Productions
As a child, Graham Duggan aspired to be a farmer or veterinarian due to his passion and interest in animals. He recalls in high school viewing The Life of Mammals, a nature documentary series written and presented by David Attenborough, which definitely left a lasting impression on Graham and became the inception of his dream to one day participate in the process of capturing beautiful wildlife imagery. With these interests in mind, Graham began dabbling in photography and also decided to pursue a BA in biology where he took part in both teaching and lab assistant jobs that allowed him to touch on his interest in animal care and behaviour. During his tenure as a Laurier student, Graham also volunteered with House Council, was an Icebreaker for two years, a member with the Kayak Association and helped with administrative tasks for the Students' Union. Graham feels these combined extracurricular activities helped him to get out of his shell and gain more confidence and comfort in a leadership role.
Following graduating from the biology program Graham took a year off to contemplate his next steps. Within this gap year he came to the conclusion that he wanted to gain even further knowledge in animal behaviour, which lead him to enrol in the Master of Science, Animal Behaviour and Welfare program at the University of Guelph. Graham greatly valued the skills and experiences he gained within this program. He was able to foster more in-depth research skills and insights into how research, government and science intertwine from an agricultural perspective. Graham's specific research was on turkey behaviour and the effects of different growing environments. His in-depth focus on turkeys lead him to a position upon graduation as a manager in the Science and Technical Affairs department with Turkey Farmers of Canada.
While working with Turkey Farmers of Canada, Graham oversaw a great deal of office administration related to agricultural government affairs and regulations. While appreciative of the work and opportunity he was being afforded in this role, at the end of the day the focus was on agriculture and not on his passion for wildlife.
Feeling itchy to keep the dream alive, Graham decided to pursue a second master's degree, this time with the Royal Veterinary College and Zoological Society of London focusing on Wild Animal Biology. Graham learned an immense amount about conservation, disease and wildlife biology from the guest lecture format of the program along with the heavy focus on field work. Within this program he conducted a thesis on the nocturnal behaviour of giraffes that helped to inform dietary strategies for zoos. 
Upon graduating, Graham returned to Canada in hopes of pursuing a wildlife oriented opportunity, however, found himself back with Turkey Farmers of Canada due to a presented opportunity.
Graham followed a documentary called Wild Canadian Year. Still not allowing the dream to die, Graham reached out to the various individuals involved in this production to introduce himself and inquire about potential opportunities to support their projects. Although nothing transpired right away from his initial contacts, Graham made sure to stay connected with these individuals to keep his name on their radar and further express his keenness to help in a research capacity for their wildlife productions.
Using a benefit point card, Graham flew out to Vancouver for one day for an interview and two weeks later was called to say he was hired for a 1.5 year contract to produce a second follow-up production to their successful first instalment.
Graham has been with Wild Canadian Year Productions as a Researcher for just over a year now and needless to say no two days are alike. Graham researches and pitches 'sequences' to the show's producer to ensure breadth in the representation of wildlife they are featuring as the series embodies a nation-wide focus. Graham is in heaven being mostly out of an office and in the field setting up camera traps and working with the video production team in executing the collection of the shots, fulfilling the story board and occasionally operating the camera himself to obtain time lapse footage. Graham's adventures have taken him as far as Nunavut to capture footage of arctic foxes, to Banff to film pikas, Saskatchewan to video sea otters, to filming mysterious grey sea wolves on B.C's outer coast. Being part of a production team for such an important documentary is a dream come true for the self-proclaimed nerdy biologist.
As exciting and as exotic as Graham's career sounds, it does come with its own set of challenges. Graham notes that animals and weather, being the two most central factors in his work, are also the most unpredictable and don't always cooperate with their production schedules. Working within a limited budget can also put a great deal of pressure on trying to schedule shoots at the perfect time to optimize the likelihood of capturing a particular animal behaviour (e.g. a migration, mating or feeding). For instance, Graham mentioned some present attempts at scheduling a shoot to capture salamander behaviour in southern Ontario that has been tricky given the colder spring that's been occurring in that region. Since Graham was coming from a biology background, he found his learning curve very steep in the beginning in terms of understanding how video productions work.
To be successful in a role like Graham's one needs to be inquisitive, creative and it definitely requires a science background. With the various experts and researchers you ultimately liaise with to create a production of this nature, it helps to be able to speak the language of science. For students interested in natural history and wildlife, Graham suggests following the Natural History Network, and educating yourself on the various large and small scale companies that focus on wildlife productions. The industry of wildlife film-making is indeed a niche one with the bulk of the industry residing in Bristol, England. The BBC produces such shows as Planet Earth and Frozen Planet, but there are many smaller companies out there that the BBC may commission to obtain footage for larger scale film projects.
Most of us flip the channel on TV before the credits are finished, but not Graham. He notes that paying close attention to the names associated with documentaries or other types of video productions are your chance to take special note of who you need to reach out and introduce yourself to. Taking the initiative to put yourself out there and making connections worked for Graham in becoming part of Wild Canadian Year, and perhaps one day will take him to Indonesia to film Komodo Dragons or witness an African Wild Dog hunt in Botswana.