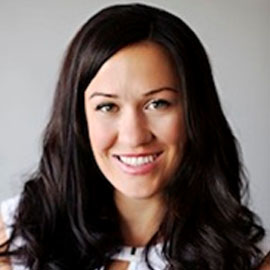 Certified Sexologist (Sociology and Psychology, BA)
Kelly McDonnell-Arnold, Founder of Bliss Individual and Relationship Therapy
Kelly McDonnell-Arnold had never been the friend to shy away from researching or answering sex-related questions. She had always known that she wanted to be in a helping profession where she could coach, empower, and encourage others to reach their full potential, and create their most fulfilling lives and relationships possible. With an impressive academic background, extensive experience in the field, and a business-savvy outlook, Kelly was able to take her passion for people and Sexology, and create a niche service within the K-W counselling community. As a result, Bliss Individual and Relationship Therapy was founded.
Kelly is well versed in the field of Sexology as proven by her lengthy list of academic achievements. Kelly first graduated from Laurier in 2007 with an honours degree in Sociology and Psychology. Immediately she went on to pursue a postgraduate and master's degree in Forensic Sexology at Curtin University of Technology in Perth, Western Australia. Upon her return from Australia, Kelly then completed the Intensive Sex Therapy Training Program at the University of Guelph, followed by a Masters of Business Administration with a specialization in Healthcare Administration at Niagara University.
But lectures and books are not solely responsible for Kelly's success. She volunteered as a sexual health counsellor throughout her undergraduate degree, continued counselling, participated in the vagina monologues, sought out professional mentors throughout her master's degree, as well as completed hundreds of hours of clinical supervision in the field of sex therapy. Success doesn't happen overnight and this is certainly apparent in Kelly's long, but rewarding road to founding her boutique private practice.
Kelly says that in order to succeed in her profession, you must be a caring, open, and a non-judgmental empathetic listener. Having an interest in people, culture, sex, sexuality, and relationships of all kinds is also important. You must be an all-around people person, but at the same time, have a certain degree of self-awareness to know what you can, and cannot work with in order to avoid compassion fatigue. The most common reasons why client's seek therapy and consulting with Kelly include: self-esteem and relationships, lack of sexual education and embracing one's sexuality, sexuality across the lifespan, sexuality and illness, sexual dysfunctions, discrepancy in sexual desire between partners, difficulty communicating with partner about sexual needs/desires, establishing an active sexual life after childbirth, issues with intimacy and connection, jealousy, rejection and breakups. Understandably, a certified sexologist must possess the appropriate skills, attitudes and interests in order to deal with such a wide range of sensitive client needs, and Kelly possesses all of them.
As you can imagine, no two days are ever the same for Kelly. Each morning she wakes up, works out and walks her dogs in order to become energized for the day. She reviews her daily and weekly agenda, schedules a team meeting to discuss collective goals, and carves out time to read in order to stay up-to-date on the latest and greatest knowledge to keep her skills fresh and sharp. Kelly then sees her clients mainly in the evenings or on weekends in order to accommodate their schedules. Each client has their own individual reasons to seek therapy and consulting, and therefore a counselling career requires you to be flexible and cater to the needs of your individual clients.
Should you be interested in pursuing a career as a certified sexologist or a relationship therapist, begin planning early on in your undergraduate career. It is wise to select courses in your undergraduate studies that offer a community service learning component where you can access volunteer practicums that will not only help you gain experiences and skills for your résumé, but more importantly, will allow you first-hand experience to answer the question, "would I enjoy this as a career?" It is important to gain as much experience as you can while in school because it helps to build confidence and creates opportunities for personal growth. At the minimum you will need a masters level degree or PhD in Sexology or a related field, complemented with hundreds of hours of clinical supervision (which is structured within most academic programs). Also joining professional associations such as the American Association of Sexuality Educators, Counsellors and Therapists (AASECT) and the Board of Examiners in Sex Therapy and Counseling in Ontario (BESTCO) will ensure your credibility and commitment to a high standard of clinical excellence in sex therapy. So while becoming a certified sexologist may seem like a long process, Kelly has showed us that it is certainly a rewarding one. When I asked Kelly what piece of advice she would give herself if she could travel back in time to her student self, she said, "take in as much as you can, and have fun doing it!"