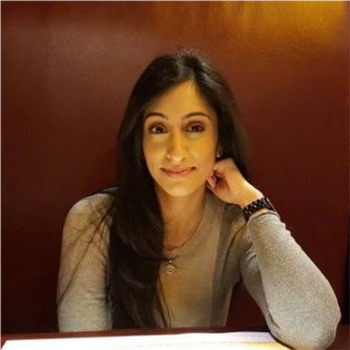 Clinical Social Worker and Case Manager (Social Work, MSW)
Rimi Dhillon
By: Hannah Mcgurk, Career Centre Peer

Rimi Dhillon graduated in 2015 from the Masters of Social Work program at Wilfrid Laurier University specializing in the individuals, groups and families stream. Rimi completed her undergraduate degree in Psychology at the University of Guelph. She was always interested in mental health and wanted to pursue a career working with people and giving back to the community. However, social work was not the only career Rimi contemplated as a student. She also considered becoming a psychologist, but wasn't sure if she would be prepared for the amount of schooling this profession would demand. Aware that volunteering would be crucial for finding a job, Rimi spent time volunteering at The Peel Children's Centre in a childcare role for parents attending counselling. She also pursued a research position with PCC in the sexual abuse treatment program and facilitated yoga at a hospital for mental health patients. Another initiative Rimi pursued was volunteering at a disability centre where she was a member of a research team who predominantly studied complex disabilities among adults.

To become a Clinical Social Worker, students are required to complete a BSW followed by an MSW. If you do not hold a BSW degree, you can still gain admission into an MSW program; however, the program will be two years in length as opposed to one. Rimi notes volunteer experience is an important criterion for gaining admission.

Rimi currently occupies two positions, first as a full-time Care Coordinator at The Central Local Health Integration Network, which is a crown agency established by the Government of Ontario to plan, coordinate, integrate and fund health services. Rimi coordinates care to ensure services are in place and operating smoothly. Case management involves home visits in the community and working closely with the Ministry of Health. Every procedure conducted by the organization must be approved by the Ministry. The goal of the organization is to ensure that patients are able to stay in their homes for as long as they can until it becomes apparent that they need to be transitioned to a long-term care facility. This allows patients to receive care as long as possible in their own home, and minimize burden on the healthcare system. As a Care Coordinator, Rimi stays in touch with the service providers, such as personal support workers, nurses, occupational/physiotherapists, along with family doctors, hospitals and patients and their families to be proactive in addressing issues as they arise.

Rimi has also started a private practice as a part-time clinical social worker at Mediview Counselling. She provides counselling to individuals, families and groups who are coping with trauma or mental health symptoms. Rimi appreciates being able to make connections with clients and families and helping to facilitate change or provide comfort.

A career in social work is a wonderful way to give back to the community. However, there are definite challenges in this type of work. For instance, Rimi notes how many organizations operate with policies and procedures that may not always be to the benefit of the patient (e.g., perhaps due to budget constraints). Given these constraints, it is often difficult to explain this complex topic to a patient in need. Therefore, skills in diplomacy and conflict resolution are necessary for this job. Rimi stresses the importance of self-care because it can become easy for social workers to experience burnout.

Another essential skill to be successful as a case manager or clinical social worker (counsellor) is active listening. It is important to make sure patients feel heard and validated. Empathy is also an imperative quality, although it is not always easy to be empathic toward every person you work with, as personalities are vast and sometimes challenging. It is important to reflect on your own core values to understand where you are coming from as well.

Some trends in the social work profession to be aware of are that it can be difficult to find full-time permanent work as contract positions tend to be more common. Rimi also anticipates an increasing need for more mental health and addiction services given the legalization of cannabis in Ontario. In terms of growth potential, social workers can always complete a PhD and pursue advanced research in the field, open private practice counselling services or advance to senior leadership roles in hospitals or non-profit organizations.

Rimi recommends newly qualified Social Workers register with the Ontario College of Social Workers and Social Service Workers (OCSWSSW) and to generate a profile with www.charityvillage.ca, which is geared to non-profit employment opportunities. She explains that for new graduates, "It is important to put your foot in as many doors as you can because whichever one opens, will teach you something new." Rimi advises students to pursue their passions and not to give up easily as Rimi's own persistence paid off applying to the MSW twice before gaining acceptance. So don't get discouraged as persistence can really pay off in the competitive world of work.