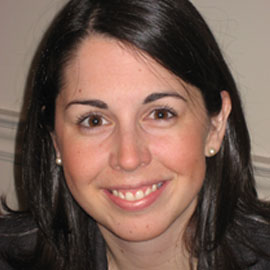 Couple and Family Therapist (Psychology, BSc)
Shannon Golletz
Shannon Golletz graduated from Laurier in 2000 with an Honours Bachelors of Science degree in Psychology. Through field placements and volunteer experiences in her undergraduate years, Shannon became very interested in counselling, human behaviour and development, as well as social issues. While volunteering at Planned Parenthood Waterloo Region as a Peer Counsellor while still a student, she acquired basic counselling skills and a greater understanding of complex social issues.
From high school to university, Shannon changed directions from studying pure sciences, to going into social sciences. Although she still loved science and completed a minor in biology, she became very drawn toward a career working face to face with people on a daily basis. She had also applied for a post degree program in Human Resource Management alongside applications for Social Work, but was ultimately thrilled to be admitted to the Master of Science in Couple and Family Therapy program at the University of Guelph, which is a very small clinical program that, at the time, only admitted six students each year.

When Shannon began her first full-time clinical counselling position at K-W Counselling Services in 2005, she was very fortunate to have many mentors. Her clinical supervisors have always been invaluable to her development as a therapist. Having access to senior staff, who were always willing to engage in peer consultations and share resources, was also instrumental in her professional growth. Many staff that she worked alongside had come from a variety of professional backgrounds such as child protection, corrections, and education and Shannon found it incredibly helpful to combine her own clinical training and experience with the diverse perspectives of her colleagues.
The minimum educational requirements to be a couple and family therapist are a master's degree in either couple and family therapy, or a related degree with additional family therapy courses. In addition to that, supervised clinical experience is mandatory. For example, Shannon was required to have completed 500 hours of direct client contact (with 250 of those hours being with couples or families) as well as one hour of clinical supervision for every five hours of clinical practice. Clinical supervision often involves showing recordings of your therapeutic sessions with clients and discussing theory and clinical issues to enhance your therapeutic practice. Following graduation, Shannon had to complete an additional 500 hours of supervised client work before she could apply to become a clinical member of the Ontario Association of Marriage and Family Therapist (OAMFT).
One of Shannon's first clinical positions was doing in-home family therapy. Every day was different for her; apartments, houses, schools, and community centres were her office space. The position also involved advocacy work as it was common to join families for school conferences, meetings with Family and Children's Services, or even visiting a client in hospital if required. Shannon also worked with youth on probation, which included seeing some clients in her office at K-W Counselling Services, appointments at the Youth Probation Office (with youth and Probation Officers together), or meeting with youth in the community at schools or custody facilities. Currently Shannon works part-time at K-W Counselling Services and has moved into a more traditional counselling role. She sees ongoing clients on a weekly basis in her office and also works one day a week with the walk-in clinic program. A shift in the walk-in clinic is always a surprise as you never know who you will see, or what issues will be presented. Shannon enjoys the balance of both ongoing clinical work and single session consultations as both keep her clinical skills fresh and always present her with new opportunities to learn and grow.
When asked what she liked best about this line of work, Shannon responded that, "therapeutic work is deeply challenging and meaningful and it is a privilege to work alongside individuals, couples, and families, who are making their way through incredible life challenges and have the courage to ask for support." Shannon explains that she is continually fascinated and moved by the stories clients share with her, and by the strength and resilience she witnesses in the clients she meets. Although there are many benefits of being a Couple and Family Therapist, Shannon mentions that the role can be very demanding in terms of extra professional development hours in order to stay abreast of new clinical techniques and approaches. It is also imperative to have access to regular clinical supervision and peer consultation to avoid emotional burnout, which can occur given the number of disheartening stories a therapist may bear witness to each day.
The most important skills needed for a person to feel satisfied and successful as a Family Therapist is empathy and to be culturally competent and knowledgeable about human diversity. Being curious about others, a patient listener, and a sound communicator are essential. "With regard to personality, many personality types can be suited to this work; after all there are many different kinds of clients you may work with. However, those best suited to the work seem to be comfortable with ambiguity, because few things in the realm of human behaviour and relationships are never black and white (constantly in the 'grey' area)."
The best training route leading to this position would be a master's degree such as Social Work, Counselling Psychology or Couple and Family Therapy, which will provide the necessary academic and practicum requirements to work as a clinical therapist. Other similar areas where one could also work include social services agencies, child protection, schools, hospitals, corrections, or private counselling practice.
Shannon explains that there are lots of exciting things that are emerging in this field. Use of technology has opened up telephone, internet (Skype) counselling, and email-based counselling. Walk-in clinics are an innovative way for agencies to shrink waiting lists and make counselling more accessible to clients. Often there are changes related to redirected government priorities, so remaining flexible and open to working with different populations and groups is important. Also, the trend toward brief and solution- focused therapy, as well as evidence-based practice remains a strong trend. Advancement in this field often leads to supervisory roles, program coordination and higher level management positions. With that being said, many practitioners can also dedicate a full and rewarding career to direct practice and become a "specialist" in a certain area. This may lead to regular opportunities to deliver professional development training to other therapists.
Advice that Shannon gives to any student entertaining a counselling career is to research the fields of Social Work or Couple and Family Therapy well before deciding to commit. Interviewing a variety of practitioners in the field is one of the best ways of really understanding what is involved. Also, engaging in a variety of volunteer positions that involve peer counselling/listening relationships, mental health advocacy, or any other "helping" experiences will aid you in determining whether a human service career is a good fit.