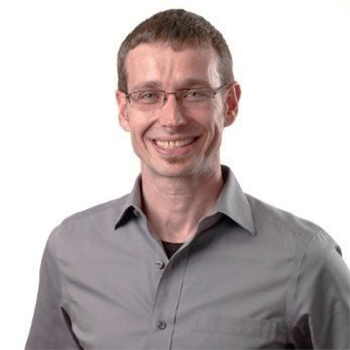 Service Co-ordinator (Sociology, BA)
Jason Spencer, Community Mediation Services
By: Andrea Crowley, Career Centre Peer

Jason's interest in social services developed while living in a Housing Co-operative where he served on the Board of Directors and learned the value of community and building relationships. At this time, Jason was working in a career as a Systems Analyst for a manufacturing company. His satisfaction with his career dwindled as he questioned the value of his work in this area and wanted more meaningful employment. Jason's experiences at the Housing Co-op helped him to develop skills in leadership and community development, which he did not previously think he had, and it also inspired him to make a career change. As part of his career change, Jason completed a degree in Sociology at Laurier to expand his knowledge of working with people facing inequity. The focus of his studies centred around the experience of marginalized groups in Canadian society.

Upon graduation from Laurier, Jason started his career in social services working for the House of Friendship at the Charles St. Men's Hostel supporting men experiencing homelessness, and quickly followed up with a job at The Working Centre as an Employment Counsellor. These roles exposed Jason to the realities of people experiencing mental health and substance use issues, homelessness and unemployment.

Jason currently serves as a Service Co-ordinator for Community Mediation Services (CMS) with Community Justice Initiatives. CJI is an innovative non-profit organization that provides services using Restorative Justice approaches to address conflict and crime by engaging the person(s) who caused the harm, the people affected by the harm and the community. CMS is available to all members of the community to help learn skills to resolve conflict and provides trained mediators to facilitate conversations between individuals and groups. Referrals to this service come from community partners including police, bylaw and regional housing. People engage in services when they are having difficulty resolving conflict on their own and feel stuck in the cycle of conflict.

Jason greatly values his current role because it is in a place that helps people in conflict work towards resolution and creates a healthier and safer community. Jason's typical work week involves phone calls and paperwork regarding case management. He also co-ordinates mediations, organizes volunteers and participates in 1-3 mediations a week working with clients who are in conflict. Jason specializes in family mediation supporting people to create separation agreements and co-parenting plans. He also facilitates training on conflict resolution for individuals and groups. He regularly facilitates a group for parents struggling with conflict called Walk the Talk, where parents learn about conflict, how they may be contributing to it and are exposed to tools and techniques to better resolve challenges.

To pursue a career of this nature it is beneficial to have training in mediation and/or a social services background. Jason stresses that a key part of the job is to be able to let go of the outcome. A mediator is responsible for the process and the participants are responsible for the outcome. In this role, you are regularly exposed to conflict, which can be stressful. Therefore, self-care is very important in order to maintain resilience. The job also requires someone who is open-minded, an excellent listener, takes initiative and can be highly flexible and adaptive.

Having mediation and conflict management skills could also lead to opportunities within the legal system, in human resources or working on high-level mediations between countries (e.g., trade negotiations). There is also a move towards credentialization within the field of mediation to ensure a consistent standard of practice. Some individuals may be interested in working as a mediator in private practice as well.

If you are interested in the mediation field, it is recommended that you obtain mediation training and strategically volunteer in organizations like Community Justice Initiatives. There are many volunteer roles offered through CJI that will expose you to mediation and help you refine your group facilitation and conflict management skills. A suggested training route that you can take within Waterloo Region would be the Transformative Mediation Training through Conrad Grebel University. If you're not in the Waterloo Region, there are other organizations across Ontario that offer similar services. The Ontario Community Mediation Coalition is a good resource to find these organizations. Jason also recommends utilizing LinkedIn to search for professionals with 'conflict coaching' and 'emotional intelligence' in their profiles to gain greater insights into the field. Associations to look into include the Alternative Dispute Resolution Institute of Ontario and the Ontario Association of Family Mediators.

Jason stresses that it is important to stay open to new opportunities, as you never know where your journey can lead you. Jason's own career as an information technology professional, turned mediation co-ordinator, is living proof that you can have many different careers in your lifetime!