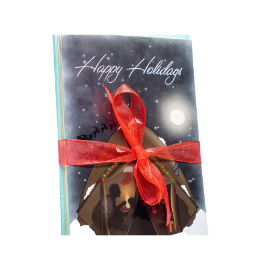 Laurier alumni uses storytelling to help inspire and empower the KW community
 "You have that bottle in your hand, but you couldn't even buy your mom a gift."
Andrew's sister said this to him as he stumbled into his mother's house half drunk on Christmas day. He still remembers this twenty-year-old moment vividly as it was his last Christmas memory with his family.
Andrew is an individual overcoming homelessness and addictions in the Waterloo Region.
Andrew has experienced homelessness on and off for over twenty years, sleeping in shelters, tents, and inside jails. He developed an alcohol addiction at a young age due to his desire to feel worthy and accepted by those closest to him. By age 16, his addiction became such a problem that he was asked to leave the house.
Homelessness and addictions are complex issues that cannot be generalized because every situation is unique. People experience homelessness for a variety of reasons, including childhood trauma, abuse, or because of an event in their lives. Drug use may be a choice in the beginning to cope with changes or to belong, but it is often not a choice to continue using and to become addicted.
When I first met Andrew, he shared with me his desire to become an advocate for those experiencing homelessness, and he wishes he had that kind of support growing up.
The Community Company's vision is to provide an opportunity for marginalized individuals (our creators) to inspire our community through storytelling, and then to co-create everyday products for our community to purchase. As a social business, we have two primary objectives: to provide our creators with social capital and financial capital.
We've been part of Laurier's LaunchPad program since February, which has helped us validate our social business model through mentorship and education.
By humanizing those overcoming homelessness, as well as other life-changing adversities through storytelling, it allows us to challenge stigmas, to educate each other, and to be vulnerable. I often hear from our creators that their favourite part of the experience was being able to hear from community members, receiving support and belief from people they've never met, and feeling re-energized and ready to tackle their next challenge.
By co-creating everyday products for our community to purchase, we are providing our creators an opportunity to earn money and feel a sense of accomplishment and worthiness. 50% of our profits are shared with our creators to achieve their short-term goals. In our first year, we've shared $2,027 with our 12 creators.
It's important to emphasize that we do not offer to change people's circumstances - overcoming adversity is a journey that requires time and patience. What we do offer is an opportunity for our creators to begin feeling change within themselves as they inspire others, and ultimately themselves.
This holiday season, we worked with Andrew to create impactful holiday cards that represent what Christmas means to someone overcoming homelessness. 
The 'Christmas in a Tent' card is my favourite holiday card that Andrew created, as it really cuts through the noise of the commercialized Christmas, and you can still feel the joy and warmth you would expect from a Christmas card. 
"These may not look like your typical Hallmark cards, but they do represent my Christmas. When you think of Hallmark cards, what do you think of? Expensive gifts. Grand dinners. Perfect lives. What you may not think of is a dinner inside a tent. Our reality is Christmas inside a tent."
We met with Andrew to share with him his first profit sharing cheque, and here's what he said:
"I doubt myself a lot, and it's things like this that show me that I can do it. It proves to myself that I am worthy, that I can do good, and that I do have a lot to contribute."
Just four days after launching our holiday campaign, CTV Kitchener reached out to us to interview Andrew. 
He was given an opportunity to share his experience with homelessness on a national platform, and he has received an outpour of positive messages and support since, including two teenagers who saw him at the mall after the CTV interview and congratulated him on his journey.
"I'm a work in progress, and I will always be a work in progress. I'm not a great success right now but I'm getting closer to the goal. I'm getting closer to where I want to be. I want to help people, I want to open eyes, I want to make it easier or more accessible for people who are facing hardship to reach their own goals, because I know how hard it has been for me to reach my goals just because of prejudices." 
About Justin and The Community Company:
After graduating in 2016 from the Lazaridis School of Business and Economics, Justin worked at Blue North Strategies for three years, providing strategy work for many of North America's largest charities. As of September 2019, he quit his full-time job to pursue The Community Company full-time.
While The Community Company isn't making "full-time" money, all of the signs are there that this can be something special. Justin believes that if he stays true to his mission and continues to provide incredible social value to the creators, the community will notice the amazing work they are doing, and that this will be a career one day.
To learn more or to purchase a set of Andrew's holiday cards, please visit:
www.communitycompany.org/mychristmas
The Community Company is always looking to partner with local businesses, influencers, charities, organizations, groups, and everything in between. Please feel free to reach out to Justin at info@communitycompany.org if you are interested in learning more or brainstorming an idea.