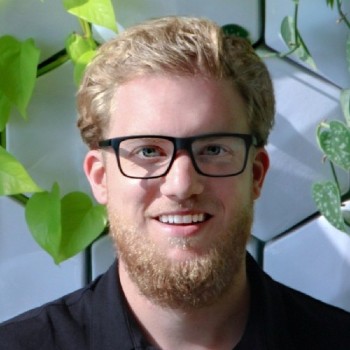 StartUp Lab Mentors | Andrew Ringer
By Alex Kinsella
Bringing a startup to life takes grit, patience and vision. It also helps to have advice and guidance from entrepreneurs who have been where you are in your journey. StartUp, Lab Laurier's mentor program brings together highly successful and dedicated alumni and community members who volunteer their time to support Startup Lab's founders. In this series, we're introducing you to a few of our mentors to share their advice on entrepreneurship and startups.
Andrew Ringer is no stranger to the challenges of being a startup founder. Ringer is the founder of four startups, including Alaunus, a patient and back-office management platform for health and home care providers. He is also a graduate of the Wilfrid Laurier University Lazaridis School of Business with an Honours BBA in Entrepreneurship and Economics.

While at the Lazaridis School, Ringer participated in the co-op program. During a placement with Contingent Workforce Solutions (CWS), Ringer met his mentor, Jeff Nugent. Ringer completed three co-op terms with CWS and then went to work with Nugent after graduation.

"I was not originally not planning for that, but it was just such a fantastic experience and he was such a wonderful guy to work with. I developed software, then did accounting and financial based analysis, and finally worked with their head of operations," Ringer said.

After building his experience with CWS, Ringer left to start Alaunus. He found inspiration for the startup from the experiences of one of his roommates' mothers, who was a nurse with the Victorian Order of Nurses.

"She would come home with a box of paperwork after doing her off-site visits and homecare work and spend upwards of two hours every night going through and managing documentation, completing client progress notes, doing charting—it was absolutely terrible. We thought about how we could apply some of the different technologies that I was developing at the CWS and apply it here. That evolved and iterated into what it is today —a practice management solution for specialty care providers," Ringer said.

Alaunus works with neuropsychologists, sociologists, occupational therapists, and other professionals to help them streamline their workflows. This includes scheduling, rostering, invoicing, and billing. These tasks can be complex, especially with the mix of payment providers involved depending on if the client uses insurance or is covered through school programs or daycare settings.
"We had a wonderful experience with the program and it helped set us up for success. I wanted to donate a little bit of my time to help other startups grow. [...] There are always unique challenges helping each venture..."
Ringer has first-hand experience in seeing the help and mentorship that StartUp Lab provides to founders. Alaunus participated in the previous incarnation of StartUp Lab, Laurier Launchpad.

"We had a wonderful experience with the program and it helped set us up for success. I wanted to donate a little bit of my time to help other startups grow," Ringer said.

Connecting with the team at StartUp Lab happened through a friend of Ringer's who was also a mentor in the program. He said the mentoring opportunities at StartUp Lab appealed to him because of his experience as a mentee with Alaunus. In addition, he was looking for a program where the time commitment would work with his role as CEO at Alaunus.

"I typically work with one to two ventures at a time and have meetings with them each week. There are always unique challenges helping each venture. For instance, one of the ventures I'm mentoring has a big challenge with offboarding a co-founder. That is a very complicated scenario and they're trying to manage the equity and financial considerations of them exiting," Ringer said.
"Mentorship is about learning from the mistakes of other people."
Working with new ventures while running his own business has the added advantage of seeing his own challenges through the experiences of his mentees.

"Mentorship is about learning from the mistakes of other people. Mentorship at StartUp Lab isn't always one on one, there's often a few mentors involved with each company. It's intriguing to collaborate and hear their perspectives and opinions that are sometimes wildly different from mine. Our conclusions are often the same, but how we get to our suggestions are always extremely unique," Ringer said.


The StartUp Lab collaborative approach to mentorship is one reason Ringer recommends that founders look at the program when considering their options. Every incubator and accelerator is designed for programs at various stages in the startup lifecycle. Ringer said that StartUp Lab is an excellent choice for early-stage ventures looking to refine their product as they start looking for their customers.

"StartUp Lab is perfect when you're in the ideation stage and working towards market fit. It's also very helpful for companies that are not necessarily SaaS focused. StartUp Lab is unique in being applicable for a wider spectrum of businesses—not just software. Program and startup fit is an important consideration," Ringer said.

Ringer also recommends StartUp Lab as an excellent place for others looking to share their experience with new founders.

"I find it very enjoyable to coach companies at earlier stages. I would advise potential mentors to consider what you enjoy doing. If you really enjoy getting your hands dirty and helping advise from the very early stages to make something of nothing, I think that StartUp Lab is perfect," Ringer said.
Want to get involved? Ask us how at
 

startuplab@wlu.ca.
Contact Us:
StartUp Lab

E: startuplab@wlu.ca
Office Location: 64 University Avenue West - LH1021

Office Hours:
8:30 a.m. to 4:30 p.m.