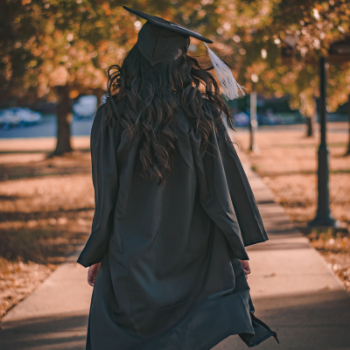 Applying to Grad School
You've explored our 40+ graduate programs programs and now you're ready to apply. We're thrilled to hear that you are interested in continuing your education at Laurier. Learn more about taking our easy three step process as you prepare to apply, submit, and accept your application to graduate studies at Laurier.
Before You Apply
Before you apply through the OUAC (Ontario Universities' Application Centre), make sure you take a close look at the information available on the program webpages, including application deadlines and admission requirements. If you have any questions about the program that you are interested in, we encourage you to contact the graduate coordinator.
Be sure to double check that you meet the admission requirements of your intended program and that the program will meet your academic and career goals. Entry into our programs is competitive and possession of the admission requirements does not guarantee entry.
Funding Matters
Getting paid to go to school makes your decision a little easier. Eligible students in Laurier's research-intensive master's programs receive $15,000 on average. Many students receive more. The funding is typically made up of a teaching assistantships and scholarship support. Review our funding policies to learn more.
Our Supportive Faculty
Our dedicated and supportive faculty are the backbone of our graduate programs. Laurier faculty balance world-class research with high-quality teaching and they are eager to help you meet your professional and academic goals.
Start having conversations with faculty members and potential supervisors. Review their web profiles and reach out to those who have similar interests to your own. If you are unsure who to speak with, contact the graduate coordinator of a program and arrange a time to chat.
After you speak with faculty members, we're sure their passion and expertise will motivate you to study at Laurier.
Step 1: Applying
Once you have reviewed the deadlines and admission requirements, you are ready to apply. Your first step is completing the online application through Laurier's page on the OUAC (Ontario Universities' Application Centre). 
Most programs consider applications until they're full. Consult the application checklist to find out when your desired program begins assessing applications and if there is a firm application deadline date.
Step 2: Submit
Three to five days after you have submitted your online application through OUAC and paid the non-refundable application fee, you will receive an email from gradadmissions@wlu.ca advising you to upload the additional required documentation to the Laurier Online Registration and Information System (LORIS). Each program requires different documents, so review the application checklist (found on each program's page) to ensure you upload all the required documents.
Step 3: Accept
Notifications of offers of admission are sent to the email address you provided in your application. Please note that each program has different timelines for reviewing applications. In some programs, it may take four to six weeks, or more to review applications, depending upon volume. For more information on the admissions timeline and process for your program of interest, please contact the program's graduate coordinator.
If you choose to accept our offer — and we hope that you do! — we encourage you to print out a copy of the electronic offer of admission to retain it for your records.
Preparing for Graduate Studies
Once you have accepted your offer of admission, be sure to review our New Graduate Student Checklist. This checklist provides you with important next steps and information - how to set up your Laurier email address, how to get your Laurier ID card (OneCard), how to apply for funding, how to apply for a parking permit, and much more.
Your Professional Development
Professional development for graduate students is a priority at Laurier. Our award-winning professionalization program, ASPIRE, will help you craft a learning plan tailored to your interests, so you can achieve your professional goals.
ASPIRE helps to identify, develop and translate your academic knowledge and skill into valuable professional skills for a variety of workplaces – higher education, the private sector, non-profit organizations, government and more.
We looking forward to you joining Laurier in your next academic journey!