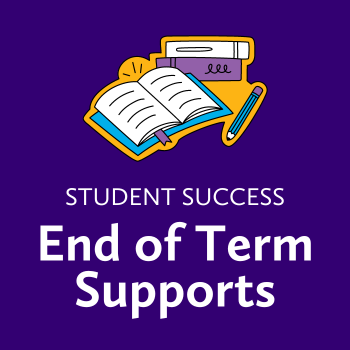 Preparing for In-Person Exams
Whether this is your first or last set of final exams, it's important to know how to prepare before your exam, what to expect during your exam, and how to reflect after your exam.
Before the exam
Getting started
Start studying early.

Confirm your ALC accommodations (if applicable).

Ensure that you know the exam format, how long you have to complete it, and what content is being covered.

Make a detailed study plan. Give yourself enough time to cover all content appropriately, with extra time to prioritize the more difficult material, or the material you need to catch up on.

Check MyLS frequently for exam updates or additional resources.

If you have questions, reach out to your instructor or TA as soon as possible.

Review exam preparations, time management, study strategies, and online learning resources.

Test your knowledge by answering practice questions, reviewing your study guides, and scheduling a study group with classmates.

Double check which exam resources are permitted (calculator, blank paper, textbook, notes, etc) and have them ready.

Take care of yourself! Eat healthy, sleep well, and take breaks.

 

 
Locate exam room
Worrying about finding the location of your exam room is the last thing that should be on your mind right before your exam. It's a good idea to plan out a trip to each of your exam locations to make sure you know how to get there and what the room looks like. Check out the Find your exam room article to learn more.  
Know what to pack

 
In a clear bag, don't forget to pack:
Your Laurier OneCard

 

At least

three

pencils/pens (trust us on this!)

 

If you are writing a multiple-choice exam with a Scantron, you will need to use pencil.

 

If you are writing a written exam, we encourage you to use pen.

 

Any authorized aids that your instructor has allowed (i.e., formula sheet, calculator, etc.)

 

Highlighter

 

Eraser

 

Ruler

 
You are welcome to bring a clear water bottle with no label, but no other food or drink will be allowed in the exam room. 
During the exam
What to expect in the exam room
You will be required to follow all COVID protocols, including wearing a mask indoors and filling out your daily assessment on the SafeHAWK app.

 

There will be at least one proctor present in each exam room. Listen to their instructions clearly.

 

All electronics must be turned off and left at the front of the exam room, along with any bags, hats, coats, etc.

 

You are not allowed to eat or drink in the exam room, aside from water in a clear bottle with no label.

 

Locate the clock on the wall so that you can manage your time accordingly.

 

Make sure to fill out your exam book, booklet and/or Scantron with your full name and student number.

 

Not familiar with how to use a Scantron? Check out this

video

.

 

You must remain in the exam room for at least one hour.

 

When you are done writing, quietly close up your exam and place any extra sheets/Scantron inside the exam book/booklet.

 

If you need to use the washroom, raise your hand and wait for the proctor to accompany you. There will not be time added to your exam if you leave the room.

 
Managing Your Time 
Know exactly how much time you have to complete the exam

 

Allow yourself sufficient time to carefully read all instructions

 

Plan and monitor your time throughout the exam

 

Take time at the end of the exam to check your work for accuracy

 
Avoiding Academic Integrity Violations 
Write in your own words and cite as necessary to avoid plagiarizing

 

Avoid the temptation to use additional resources beyond what's expected for the exam

 
Staying Focussed 
Read each question carefully

 

Concentrate and use strategies to minimize mind-wandering

 

Have water available in case you need it

 
After the exam 
Do not copy, distribute or share the questions after the exam is finished

 

Reflect on how you "think" you did on the exam. Were you prepared? Would you do anything differently next time?

 
Looking for additional support?
Visit the Student Success Portal to register for a Exam Preparation workshop or book an Exam Preparation appointment with a Learning Consultant or Peer Academic Coach.