Game Design and Development student projects
Capstone Games
Students spend much of their senior year on a capstone project.  Here are a few examples of capstone projects:
By: Ned Rehanek
The closeted transgender high school experience - with a Shakespearean twist.  Navigate the last 6 weeks of high school and interact with a variety of characters how you want to - and just try to survive!  Dramatic Irony is a visual novel about my own experiences as a closeted trans male in high school.  It does not represent the transgender experience as a whole.  This game does contain acts of misgendering and other uncomfortable situations.

Blank Canvas (video trailer and downloadable game)
By: Joshua Pacheco, Thomas Eduardo Martinez, Franco Lee, and Grady Tarlin, and music by Ricardo Lasso
Blank Canvas is the story of a kid names Jesse, whose life is miserable and harsh.  Jesse's only escape is painting, which allows them to release their pain through creative expression.  In Blank Canvas, use Jesse's painting skills to navigate a nightmarish circus and work towards a better life.

By: Marry Harry
Hotel Avaritia is a dialogue-heavy, story-driven mystery game set in a hotel run by demons. You play as Ramsey, an investigator for the supernatural organization The Bureau, an organization interested in keeping supernaturals hidden and humans safe. You are tasked with investigating Hotel Avaritia, a hotel run and owned by Roger, an infamous greed demon who's tasked himself with housing his demon acquaintances. Each demon in the hotel represents a different one of the seven deadly sins, and Ramsey has to interview each of them to find out the whats whats of a mysterious event that occurred in the hotel during the summer. Will Ramsey figure out who caused this event?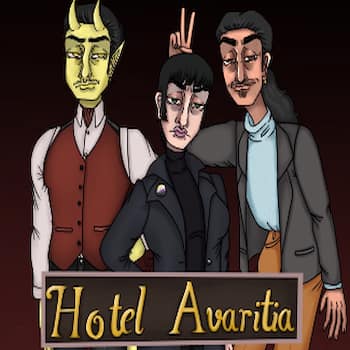 By: Mongoose Games
This game is a high stakes cooking competition where you travel the galaxy, collect exotic ingredients, and impress the compeition!

Obstacles (downloadable HTML-based game)
By: Alia Skillman
Obstacles is a short, interactive story game designed for use by and in partnership with the Soroptimist Foundation of Canada. The game is geared towards young women in high school, and features a diverse cast of characters with unique backstories, family lives, and obstacles in their path to achieving their dreams.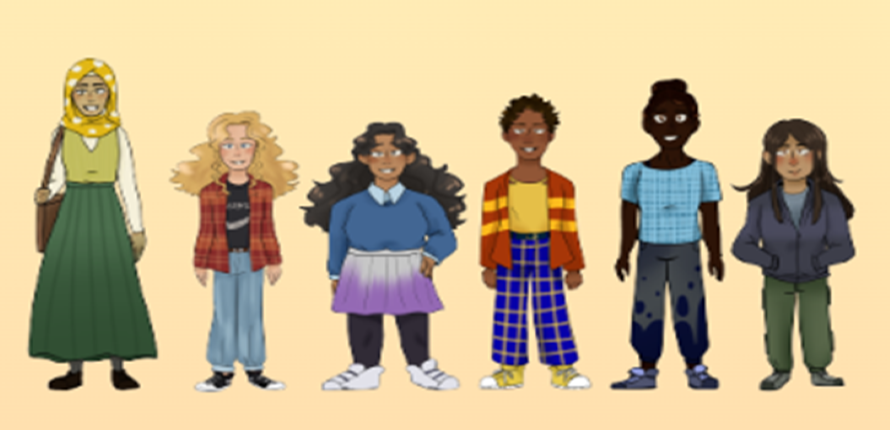 Research Projects and Game Jams
Outside of class, some students participate in game jams, which are short-term development activities.  Others are funded to work with faculty members on research projects.  Here are a few games that came from those activities:
Masks (downloadable game)
By: Nedward Rehanek, Joshua Shaw, and Maya Harry
Masks was the winner of the Gamerella Game Jam in 2020. In the game you play as an autistic woman, Harriet, trying to navigate life. You have to make sure she's productive while also managing how the world around her sees her.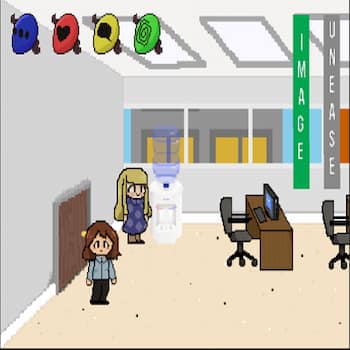 By: Robert Durant, Samantha Graham, Lauren Sipkas-MacPherson, Konor Legault, and Scott Nicholson
Reflections was a puzzle-based live action game inspired by Escape Room design concepts that was designed and run for Criminology alumni on the Laurier Brantford campus for Homecoming 2019.  The event ended up winning the Gold Medal for the Best Alumni Event of 2020 from the Canadian Council for the Advancement of Education.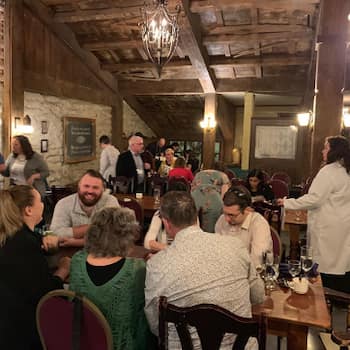 Smaller Class Projects
In many classes, students will develop several games over the course of the semester.  Here are some examples of games that students made over a few weeks for specific class project:
Amoeba (web-based game)
By: Lucas Leprince
Ameoba is a puzzle platformer where you control both characters simultaneously. The controls used to affect the two amoebas, so you must carefully navigate the level to get everyone to the end without hitting any hand sanitizers.

By: Laura, Tyrone, Brayden, and Dayne
A 2-4 player board game in which the players have been captured as prisoners of war and must escape the compound before its too late. The players must take turns to sneak around the compound and avoid the constantly rotating spotlight in the centre of the map. This document contains the rules to a board game developed for class.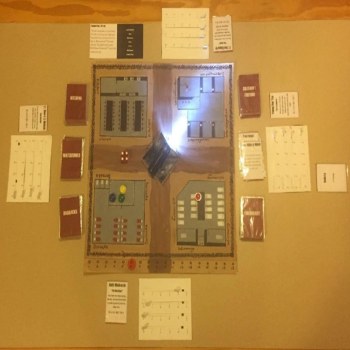 Stuffies are more than just toys. They protect their children through the night.
Play as Frizzle, little Aggie's new plush fox. Keep the lights on, keep shadows away, and don't wake anyone up!