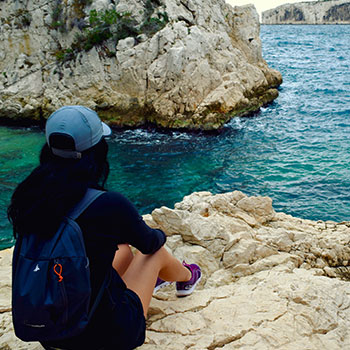 Preparing for exchanges
Depending on the exchange program at the university partner you have chosen, you can spend one term or one academic year abroad. Review the term dates to ensure they fit into your Laurier academic schedule.
Costs of Going on a Student Exchange
You will pay full-time tuition and regular student fees to Laurier based on 2.5 Laurier credits per semester while on exchange. If you take more than 2.5 credits, you will be charged additionally. If you study abroad on a letter of permission rather than an exchange, you will pay fees to the partner institution.
Additional costs on top of tuition should also be considered. These costs include: flights, accommodations abroad, passport and visa expenses, emergency fees, local transportation, immunizations and student fees.
Foreign travel is often more expensive than people plan for. Plan and budget. Before you leave Canada, make arrangements for how you will get additional funds if needed. Have some money already exchanged in your pocket so you can pay the cab when you arrive or buy a snack during a stopover.
Note that some countries do not accept traveler's cheques and automatic teller machines (ATMs) may not be readily available. Check with Visa or MasterCard for the addresses of ATMs around the world. Also, request a PIN number from your credit card company so that you can withdraw cash from your card if you need it.
Financial Assistance
OSAP recipients retain their eligibility for OSAP, but you must notify the Student Awards Office of your intent to study abroad through Laurier International. Students studying through a letter of permission may not be eligible for OSAP because you will not be paying Laurier tuition. 
Most scholarships will allow studying abroad. For more information, see Financial Assistance.
Accommodations
Some host institutions offer on-campus accommodations while others do not. If available, host institution accommodation forms must be filled out and returned in order to qualify. Host institution deadlines for applications must be observed and any questions regarding accommodations must be directed to the host institution. 
If you live off-campus while abroad, travel to your host destination prior to the beginning of classes to secure accommodations. Laurier International does not provide assistance in securing accommodations for outgoing exchange students but can connect you with Laurier students who have been to that country/school in the past so you can get advice on where to look for safe, affordable accommodations.
Graduation
Students who participate in the fall term exchanges will not graduate prior to spring convocation following their exchanges. Students who participate in winter term exchanges will not graduate prior to the fall convocation following their exchanges. Keep in mind that some academic terms at partner universities do not align with Laurier's academic terms.
Support for Student Exchanges
In preparing for the student exchange program, the student abroad advisor (Waterloo) and global engagement coordinator (Brantford) can help with the following:
Connecting students who have travelled and want to travel. 
Selecting an exchange destination that fits your program.
Selecting the correct number of courses to study abroad.
Pre-departure resource referral.
Support while abroad.
Re-entry debriefing upon your return.
Transferring credits upon your return.
Your academic advisor can help with:
Advising you on what courses you still need to complete your degree. It is ultimately your responsibility to ensure program requirements are met.
Assessing what foreign courses would count as Laurier equivalent courses or electives in their department.
Contact Us:
Waterloo Campus

Office Location: Arts Building 2A01

Brantford Campus

Office Location: Dalhousie Centre DC135