Fieldwork
Opportunities exist for senior undergraduate students to participate in fieldwork in a variety of subdisciplines in Geography and Environmental Studies. These experiences range from working in the Northwest Territories studying impacts of a warming climate on permafrost to creating a virtual subdivision for planning purposes in the urban environment of southern Ontario.
Fieldwork Courses
While these field courses provide outstanding opportunities for a high-impact engaged learning experience, they also provide a chance for honours Geography and Environmental Students to bond together as a community. These experiences are often the most memorable for our students, and reflect our department's commitment to hands-on research training and learning in the field.
The course begins with basic measurement of vertical and horizontal angles, differential and profile levelling, closed traverse and total station surveying, coordinate geometry, and topographic surveys. The students are then introduced to Global Positioning Systems (GPS) and unmanned aerial vehicles (UAV) based surveying methods. Students will gain practical experience in the use of automatic and laser levels, theodolites, total station, RTK GPS systems, and UAV.
This required course revolves around an intensive four-day field camp to a location in Ontario, offering a variety of hands-on research opportunities. In past years, it has taken place in Pinery Provincial Park, on the shore of Lake Huron. Students work in small groups to identify, prepare for and conduct field projects. Group posters and individual field research reports are typically expected focussing on spatial/statistical/qualitative data analysis. Topics revolve around a series of human-environment and resource management issues, such as sand dune restoration, ecological impacts of controlled burning, and visitor perceived health impacts.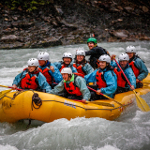 This optional course builds upon third-year field camp experience, but revolves around an intensive 10-day field trip outside of Ontario. In recent years, it has taken place in Peru, Costa Rica, the Canadian Rockies, and Yukon. Students work in small groups to identify, prepare for, and conduct field projects on a wide range of topics spanning all areas of human, physical and environmental studies. Many other educational, recreational, adventurous and social events are incorporated into the trip to enhance the experience.