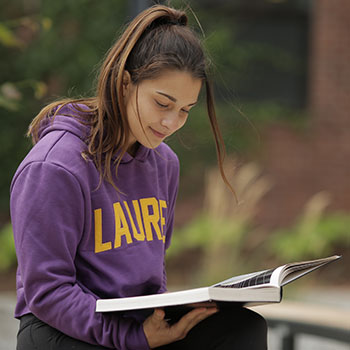 Course registration for returning students
2022/23 academic year course registration for returning and transfer students is July 4 to 7. 
We've broken down the registration process to help you register for your courses. 
Before You Get Started
Make sure you confirm: 
your academic standing,
year level, 
your registration date, and
if you have any holds on your account that would prevent registration. 
To confirm: 
Log in to LORIS.
Select the Student Services tab.
Click "Registration."
Click "Prepare for Registration."
Step 1: Program Requirements
Take note of all your required courses.
Check the academic calendar in the year that you began your program or log in to MyDegree to see which courses you must take.
Connect with your academic advisor if you have any questions.
Determine your year level in LORIS.
Did you know that your year level is based on the number of credits you have completed, not the amount of time you've been at Laurier? This number of credits includes transfer credits and any intersession, spring or summer courses you have in progress. 
Year 1: 0.5 to 4.0 credits
Year 2: 4.25 to 9.0 credits
Year 3: 9.25 to 14.0 credits
Year 4: 14.25 or more credits (honours only)
Step 2: Choose Electives
Electives are any course that are outside your chosen program of study. The number of electives you need to take will depend on your program. 
Here are a few things to consider to make the process easier: 
Look for courses that sound interesting, relate to your passions outside of the classroom, or subjects you've enjoyed in the past. 
Think about courses that compliment your major or career path. 
Check out available minor and options.
 Tip
Schedule your mandatory courses before you add any electives. Some required courses are offered both terms, so check all your options before committing to a particular schedule.
Step 3: Build Your Timetable
Plan which courses you are taking by using Browse Classes and the Visual Schedule Builder.
Browse Classes
Use Browse Classes in LORIS to determine which term each course is offered, and if there are any prerequisites or restrictions on those courses. 
Write down the CRN for each lecture, lab and tutorial section to save yourself time on registration day. 
Make sure the courses you want to take are open to you: 
Click the title of the class. 
Select the Restrictions tab to view major and year-level restrictions. 
Select the Prerequisites tab to determine if there are any prerequisites.
 Search Tips
To search for courses by year level, enter the subject of your choice, followed by the year level and a % sign in the course number box. For example: 4% will show you all 400-level courses. 
To review a full listing of courses offered in a specific term: 

Leave the subject and course number box blank.
Choose your campus (Brantford, Waterloo or Online Learning). 
Visual Schedule Builder
Make a mock fall and winter term schedule using the Visual Schedule Builder.
Step 4: Register for Courses
Register for your fall and winter term courses on your scheduled registration day. 
Check out the Register for Courses page to find step-by-step instructions and videos on how to register for courses.
Remember the CRNs that you wrote down in Step 3? You can use them to save yourself time during the registration process: 
Choose the "Enter CRNs" tab.
Click "+ Add Another CRN" and add multiple boxes. Each CRN must be in its own box.