Register for Courses
IMPORTANT NOTICE
We want to acknowledge the enormous impact to both your academic and personal lives as a result of the COVID-19 global health crisis. We thank you for your patience and understanding following the university's decision to move the fall term online. Laurier's priority during this pandemic has been the safety of students while remaining committed to academic excellence and student satisfaction. Our community has come together to adapt how we teach and support students.
FALL 2020
Most courses will be delivered online, and we will work to identify aspects of programs and activities that we can deliver in-person, as aligned with public health requirements. For further information please refer to our Fall Semester FAQ.
Now that you have created the perfect fall and winter term schedule, you are ready to register for your courses. A reminder that course registration will open for all first-year students on June 15 at 3 p.m. Upper-year students and incoming transfer students can check their registration date to confirm when registration opens for them.
In preparation, incoming first-year students are encouraged to sign-up for a registration webinar that offers resources to help with the registration process.
Logging into LORIS
Go to LORIS.
Under "Network Login Username" type in your username. Your username will be the first 4 letters of your last name and the last 4 letters of your student number (i.e. smit1234). If your last name is fewer than 4 letters, use 'x' to fill in the remaining spaces (i.e. luxx7890).
Under "Network Login Password" type in your network password. Your password will be the default setting of your birthdate (mmddyyyy format). You will be prompted to change this password after your first login.
Note: If you lock your account, wait five minutes and it will reset. If you continue to have login issues, contact the ICT Service Desk.
Registering for Courses
Click on 'student services', then 'registration', then 'register or classes'.
Select your term and then click 'continue'. You should begin with Fall 2020 (but will also need to register for Winter 2021 when you have registered for courses in your fall term).
Select the 'enter CRNs tab'. Type each CRN into a box (i.e. 1636). CRNs can be found in the Visual Schedule Builder or Browse Classes. Click 'add another CRN' until you have enough boxes for your whole term.
When finished adding your 'CRNs', click 'add to summary'.
Press 'submit' on the summary page to officially register in your courses. To be successfully registered in your courses, you should see the word 'registered' beside each lecture and lab or tutorial.
Go to 'schedule and options' to view your weekly schedule (online courses will not appear in your schedule).
Note: Remember that labs and tutorials will have their own CRN. You must add the course CRN and lab/tutorial CRN to successfully register for the course.
Note: If you do not know the CRN of the course you wish to add, you can also search for it using the "Find Classes" tab. You can search for classes by course code, course title, subject, etc.
Switching labs or tutorials
Students wishing to switch a tutorial or lab section can do so on LORIS without automatically dropping the lecture. For example: A student currently registered in SP101 Section A, Tutorial 1 wants to switch into Tutorial 2.
You can follow these steps to switch tutorials without dropping the lecture, provided there is room in the tutorial and there are no time conflicts.
Log into LORIS
Click on "Student Services"
Click on "Registration"
Click on "Register for Classes"
Select term and Continue.
Go to Find Classes and Search for the new section you want to add. Click "Add" and it will go to your Summary as Pending status.
Under "Summary", find the section you want to drop and select "Drop Course"
Click on "Submit"
How to Waitlist
Waitlists exist for some courses, and allow you to "get in line" for the next available space that may come available. If you're at the top of the wait list, and a spot becomes available, you will receive an email to your mylaurier email advising you have 24 hours to add the course through LORIS. If you miss your window of time to register in the course, you will be removed from the wait list, and the next person on the wait list will have the opportunity to add the course. 
Do a search under "Find Classes" in Register for Classes.
Review the "Class Seats" column for available space in the section and the wait list.
If course is full and there is space available on the wait list, click "Add". Course will be added to your Summary with "Pending" status.
Click "Submit". 
You will get a "Registration Add Error" message to let you know the course is full, but a wait list is available.
Under "Summary", go to the course and select "Waitlisted" from the Action drop down menu.
Click "Submit".
Status will appear as "Waitlisted" in Summary.
To view your wait list position, go to the "Schedule Detail" tab on the left panel and view course details. Click the arrow beside the Course Title to expand the course details.
If you receive an email indicating a space is available, log into LORIS and under the "Summary", select "Enrolled" for the wait listed course from the Action drop down menu. Click on "Submit" and your status will change to "Registered".
Registering for Sprummer Courses
Laurier offers a variety of course offerings during what we call the "sprummer" term. This includes spring, intersession and summer schedules. You may find completing courses during this time period helpful, if you are looking to catch up on credits.
To assist you in determining which courses are offered during each term, we have created a static timetable. Please note that this information is subject to change frequently, and the information found within Browse Classes and LORIS is the most accurate.
Course offerings can be found within Browse Classes or LORIS.
Sprummer Courses in Browse Classes
Open Browse Classes and choose the spring term for the current year.
Search for courses and click on the course name to bring up the class details.
Select the "Instructor/Meeting Times" tab.
Note the dates listed for the duration of the course:


Spring (12-week term) – classes run May 11 to Aug. 5
Intersession (six-week Term) – classes run May 11 to June 22
Summer (six-week Term) – classes run July 6 to Aug. 17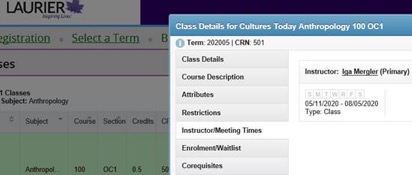 Sprummer 2020
Check out our static timetable for sprummer 2020 courses.
If you elect to take a WD final grade for a winter 2020 term course, you might be interested in "making it up" during the summer months.
Courses designated as Online Learning Courses (section OC) continue as normal with no scheduled meeting times. However, previous in class courses (sections BR for Brantford, or A/B/C etc. for Waterloo) could be maintaining scheduled meeting times (online). These decisions are made by instructors individually.
Students who take courses in the spring term may qualify for OSAP spring term funding. Check your eligibility and complete the OSAP Spring Term Extension form.
The university, along with Wilfrid Laurier University Students' Union and Graduate Students' Association (GSA) leaders, will reduce incidental fees for the spring, intersession and summer terms in light of service changes in the remote learning environment. For a full list of spring, intersession and summer term fees, visit the Incidental Fees page.