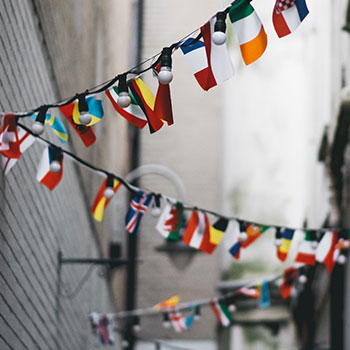 Celebrate International Education Week with intercultural programming and delicious international eats
International Education Week (IEW) is recognized and celebrated worldwide every third week in November. This year, IEW is November 15 – 19, 2021.  
To celebrate International Education Week, we wanted to highlight opportunities for global engagement without having to travel, as well as how to begin planning for a future exchange term. And be sure to stop by the Fresh Food Company during IEW for delicious international menu items. 
International at Home Programming
While the COVID-19 pandemic has limited or prevented international travel, our International at Home programming has focused on bringing global learning and engagement opportunities to you. The programs have allowed the Laurier community to connect with each other, as well as partner institutions around the world, to build intercultural knowledge and skills, make new connections and foster new friendships. International at Home programming will continue in the winter 2022 term and we encourage you to register for one – or more! - of the programs. 
Tandem Language Program
Through the Tandem Language Program, you'll share and learn language and culture with a peer. Partnerships are based on language proficiency and interest, giving you the opportunity to develop skills in a new language while learning in a social way. 
We will also be partnering with the Burgundy School of Business (BSB) in France during the winter term. This is a great opportunity to build your French language and culture knowledge and to meet students from BSB. It's also a great way to learn more about the university and the community if you're considering an exchange term there. 
Intercultural Certificate
Expand your intercultural knowledge and skills by completing the Intercultural Certificate, which is being offered virtually for the winter term. Modules in the certificate cover topics including concepts of culture, exploring your own culture, intercultural communication, cultural adaptation, and more. And all students who complete the Intercultural Certificate will receive credit on their Laurier Experience Record. 
Hawk 2 Hawk English Conversation Project
In the Hawk 2 Hawk English Conversation Project, you'll be paired with English-language learner students in the LEAF program for weekly conversations in English. The conversations will focus on sharing about your cultural experiences while providing LEAF students with an opportunity to practice their English skills.  
Laurier International Cultural Conversations
Open to international and exchange students, Laurier International Cultural Conversations (LICC) is embedded in HR261: Multiculturalism, taught by Laurie Jacklin, and pairs students for conversations around multiculturalism, race and ethnicity, migration theory, and more. It's also an opportunity for international and exchange students to share more about their experiences. 
Exchange Program Information Sessions
We are optimistically looking ahead and planning for students to go on exchange during the 2022/23 academic year. Applications for exchange in 2022/23 are due January 27, 2022, but before you can apply, you'll need to attend an exchange program information session.  
All information sessions are virtual and hosted through Zoom. See the full schedule to find an information session to attend and begin planning your exchange experience now! 
International Eats at the Fresh Food Company
Students, faculty and staff on the Waterloo campus are invited to the Fresh Food Company during International Education Week for International Eats, where each day a chef will feature a different meal from a country of their choosing. This is a great way to enjoy different food from around the world and for our chefs to use their culinary skills, knowledge and influences to create a unique global menu. 
Some of the dishes planned for the week's menu include wild mushroom risotto from Italy and oxtail, rice and peas, and macaroni salad from Jamaica. More menu details will be posted online and shared on social media.