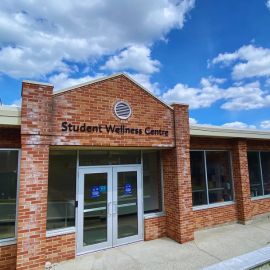 Staying Well While at Laurier – How the Student Wellness Centre Can Help!
The Student Wellness Centre is the home of Laurier's physical, emotional, and mental health services on campus, and we are here to support you throughout your time at Laurier. We strive to create a safe and inclusive environment, and we work hard to deliver caring and confidential support to students.

Here are the top things we want all students know about the Student Wellness Centre and how we can support you during your time at Laurier.
How do we support students, and when should you visit the clinic?
Our team includes physicians, a nurse practitioner, registered nurses, counsellors, and a dietitian. We offer wellness therapies, including physiotherapy, chiropractic care, and registered massage therapy. Our wellness education team offers resources and a range of interactive programming led by peers and professionals.

We provide the same medical care that you would receive from your family doctor,
Treatment and follow-up for acute or chronic illness or injury
For immunizations, or to make sure your immunizations are up-to-date
Referrals to specialists
Pregnancy testing and support with pregnancy and related concerns
Preventative sexual health care, including screening and treatment for STIs and contraception

We offer counselling and mental health support from clinical therapists and other mental health professionals. Common concerns addressed in counselling include,
Anxiety and depression
Homesickness
Stress management
Roommate tensions
Parental and family conflict
Surviving a break-up
Grief
We also hold space every day in our schedule for same-day counselling and crisis intervention.

If you are ever unsure about where to go for help with anything to do with your health and well-being, you can always drop in, call, or email us at wellness@wlu.ca to ask any questions, and we will be happy to help!
How you can access our services, and how they are they paid for
The Student Wellness Centre is available to every registered student, even if you opted out of the student health plans. You can schedule an appointment by calling or dropping in.

Doctors' appointments are covered by your OHIP or UHIP card (or other provincial health insurance card) with a few exceptions. We cannot book a medical appointment without a valid health card, so make sure you have your health card information with you when you book your appointment.

You will never be charged when you meet with a counsellor, dietitian or a nurse at the SWC because their services are covered by the student services fees you paid in your tuition. We also never charge students for any of the programming or workshops run by the wellness education team.

There is a fee when you visit for massage, chiropractic care, or physiotherapy, but most people will have coverage for these services from their extended health and dental plans.

Call us on the Waterloo campus at 548.889.3239, or on the Brantford campus, call 519.756.8228 x5803.
Your visits are confidential
The Student Wellness Centre will not share information about you or even the fact you've visited us with anyone; that means your parents, professors, and other university departments will not know if you have an appointment with us. All staff in the SWC are obligated to adhere to Ontario's personal health information and privacy legislation. We will never share your personal health information without your written consent, and we will never ask you for more information at the front desk than we need to book you properly. For more information, read our complete Privacy and Confidentiality Policy.
We are here to help you be proactive about your health
There are many ways you can be proactive about your wellness and help yourself to thrive at Laurier. Here are a some of the most important ways we can help you:
Make sure your immunizations are up-to-date and consider those vaccines that will give you extra protection while living in the university environment such as HEP B and the flu shot. Routine vaccinations are an important way you can make sure you stay healthy. If you think your childhood vaccinations may not be up-to date, please make an appointment with us to talk to a nurse.
The SWC offers the annual flu shot to all students every year. We will post information early in November to invite you to get your flu shot.
Some of the sexual health services we offer include: STI testing, contraception counselling and prescription (IUD insertions and oral birth control), and pregnancy related treatments and care. Drop in to talk to the nurse any time you have questions or concerns about your sexual health.
If you feel distressed or are struggling to cope, please reach out to us. We are here to support you with mental health and counselling support, including crisis intervention and same-day counselling appointments. Please call us when you need help.
Take advantage of wellness education. The wellness education team provides interactive programming, resources, and events throughout the year to help you thrive.
We are here for you when you get sick
The Student Wellness Centre has a limited number of same-day doctor's appointments every day for students who are experiencing acute illness, such as cough, fever, sore throat, urinary issues, and symptomatic STIs. There are a variety of other reasons why you may need a same-day doctor's appointment, so don't hesitate to call, and we will make sure to schedule you the most appropriate appointment.

Please be aware that we do not provide sick notes or verification of illness forms for missed classes, labs, or coursework. If you miss class or schoolwork because you are ill, make sure you communicate with your professor and fill our the illness self-verification form.
If you run into person problems like roommate conflict, we have someone you can talk to
Our counselling team is caring and supportive, and they are here to help you cope. University is a challenging and stressful time for many people, and stress, anxiety, and depression can have an impact on your academic success as well as your well-being.

If you think you might benefit from talking to a counsellor, please don't hesitate to call us. We see students for many reasons, including anxiety and depression, homesickness, stress-management, relationships issues, and self-esteem.
Call us on the Waterloo campus at 548.889.3239, or on the Brantford campus, call 519.756.8228 x5803.
The Student Wellness Centre does not administer UHIP or the extended health and dental plans, but here is what we think you should know about them
Health and Dental Plans
All undergraduate students are automatically enrolled in the Undergraduate Health and Dental Plan when they register for school. Graduate students are automatically enrolled in the GSA Health and Dental Plan. You can opt out of your plan within the opt-out window if you can demonstrate that you are covered by another health plan. For information about opting out of the plans or for coverage details, please visit your plan's website.
UHIP
Most international students are registered with and covered by the University Health Insurance Plan (UHIP). UHIP covers your medical needs equal to the coverage Ontario residents have with their green Ontario Health Card. We accept UHIP in the Student Wellness Centre, and we do not bill international students directly for the cost of doctor's appointments. Visit the University Health Insurance Plan page for everything you need to know about UHIP.