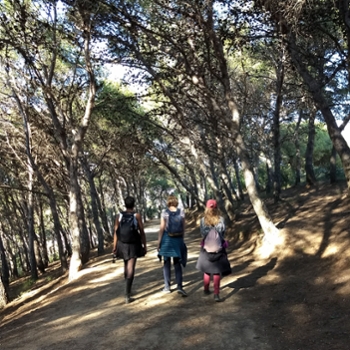 What Laurier students are saying about their exchange experiences
Every year, dozens of Laurier students spend a semester or a year on exchange, studying and living in a new country, developing greater intercultural skills and building international friendships.
Read more about the amazing experiences our #hawksabroad have had while on exchange all over the world!
Personal Growth
Klevisa Berberi, Kedge Business School, France: "Exchange has shown me how to have fun. I hope to find myself lost in Europe again someday."
Chelsea Gordon, Akita International University, Japan: "The lack of distractions and external activities has forced me to look inwards and find things that I want to focus my energy on."
Marissa Knight, Universite Paris-Dauphine, France: "There were times when I cried, wanted to come home, and felt like I couldn't do it on my own. But looking back, I am able to see how strong I had been and I surprise myself with all I have accomplished."
Benjamin MacMillan, IMC University, Austria: "After being on exchange I can tell you that you will never be completely at home again, because part of your heart will always be elsewhere due to the connections you create."
Sasha Peirera, Universidad de Deusto (Bilbao), Spain: "It's true, I didn't have the chance to travel to every European city on my bucket list, but I gained something more personally valuable instead."
Adrian Wong, Shanghai Lixin University of Accounting & Finance, China: "I was not going to allow this once-in-a-lifetime opportunity to be cut short by fear and uncertainty, so I decided to submerge myself into the culture as much as I possibly could."
Intercultural Learning
Maggie Roth, University of Macau, Macau: "I am so grateful for the people and places that touched my heart and the lessons learned along the way."
Kezia Ramalho, Neoma Business School (Rouen), France: "Living and studying in France was definitely a large adjustment, as I had to get used to the cultural differences, food and language."
Stephanie Tse, Akita International University, Japan: "Studying in another country and travelling around the world helped me to develop compassion."
Johnie Van Happen, Western Sydney University, Australia: "The thing I missed most about home was pizza. The pizza was good there but it certainly couldn't compare to Canadian pizza."
International Travel
Amy Dang, Neoma Business School (Rouen), France: "Going on exchange is about broadening your experiences and learning more about yourself. Pick the school or country you want to study in."
Kayla Dinsmore, Universidad Francisco de Vitoria, Spain: "I met so many new friends, tried new food, experienced new cultures and added 16 countries to my list."
Anthony Hill, Beijing Jiaotong University, China: "One thing I really loved about being in Beijing was how easy it was to travel around the city."
Eliana Rose, University of Western Sydney, Australia: "I was able to use the experiences I had travelling Australia as a new kind of textbook - a global classroom that surpassed what I could have learned from a PowerPoint presentation."
Nicole Sorkin, Universita Carlo Cattaneo, Italy: "It's important to understand what you want from exchange and to follow your heart."
Preparing for Exchange
Emma Ruetz, Hong Kong University, Hong Kong: "I really wanted to have an authentic and immersive cultural experience in a country that is considerably different from my own."
Donnique Williams, Universidad de Deusto (Bilbao), Spain: "Carrying less means avoiding the baggage carousel after a long flight or dragging a suitcase down cobblestone streets to the chagrin of everyone you pass."
Photo Essays
Rachel Paul, Philipps-Universitat Marburg, Germany