Dean of Students Office
The Dean of Students are Back
The Dean of Students Office is happy to announce we are back in-office and are available for students to book in-person and virtual appointments. We have been patiently waiting for our return to campus and are looking forward to meeting in-person with our students once again. If you have any questions or are interested in meeting with one of our Dean of Students team members please email deanofstudentswl@wlu.ca (Waterloo campus) or deanofstudentsbr@wlu.ca (Brantford campus). 
See you Soon Golden Hawks!
Get to Know Your Deans of Students
Get to know both of Laurier's Waterloo and Brantford Dean of Students through this video made by our Laurier 101 team from our Teaching and Learning department.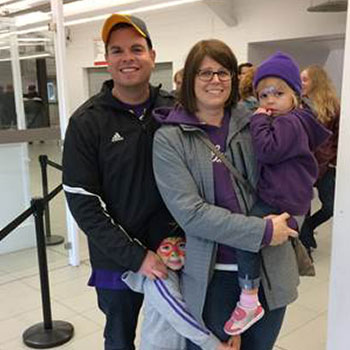 Adam Lawrence, Dean of Students, Multi-Campus
Adam Lawrence has been a part of the Laurier community since 2003, working both in Residence Life and the Centre for Student Equity, Diversity and Inclusion. He became dean of students in 2013 at the Brantford campus.
The role of the dean of students focuses on student support, safety, wellness, and engagement. Adam and his team want to create an environment where students feel valued, safe, and welcome. Adam is a strong advocate for students and strives to create a strong student-centered culture throughout the entire Laurier community.
In his role, Adam serves as a resource for students, faculty, and staff. Adam provides leadership and guidance to all areas of the student experience, including transition programs, financial wellness, mental health, student leadership programming, and other key areas affecting students' personal and academic success.
Beginning April 2022 Adam will be acting Dean of both the Waterloo and Brantford campuses here at Laurier. All members of any Laurier campus community are encouraged to connect with the variety of student support services available on campus. If you require elevated levels of support or coordinated care, you should connect with the Dean of Students Office.
 
Melissa DiLeo, Acting Director, Student & Community Experience, Brantford
 Melissa DiLeo (she/her) is the (Acting) Director, Student & Community Experience and has been a member of the Laurier team since 2011.  Melissa first joined Laurier as the International Student Advisor for Laurier International and has continued to hold roles on the Brantford campus which focus on student conduct, support, and engagement. 
As the Acting Director, Melissa provides leadership to an incredible team in the Off-Campus First Year Initiatives office supervising programming such as L1 Lounge (Brantford), programs for first-year off-campus students (LOCUS), and other student engagement and transition programs.  As part of the team, Melissa has the opportunity to connect with the needs of the Laurier community and to develop programs which meet the needs of both undergraduate and graduate students. 
Melissa supports creating a culture of care through a student-centred lens.  Building relationships, connecting with peers and, developing the whole student are central to the student experience.  Student leadership development, student transition, and other student experience opportunities begin when students share their engagement needs.
 All members of the Laurier community are encouraged to reach out to connect with or collaborate with the Dean of Students office.  Whether a student needs support or has an engagement idea, we would love to hear from you!